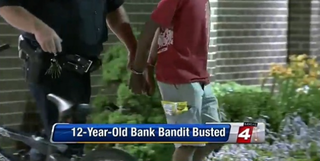 Prosecutors in Oakland County, MI, will have to decide whether to charge a 12-year-old boy, who was arrested after using his bike to smash a glass door at a Bank of America branch, with burglary.
The Detroit News reports that the boy, who packed snacks for the alleged heist, arrived at the Southfield bank at 3 a.m. on July 12 and broke open the door with his bicycle. When police arrived, he had rolls of coins and some other cash in his possession and he was taken into custody.
At the time, the boy was returned to his mother at their home in Oak Park, one of Detroit's inner-ring suburbs along Eight Mile Road for the non-locals reading. Now, Southfield Police have submitted a petition for the boy to be charged with breaking and entering.
Michigan is notoriously tough on juvenile offenders; there are hundreds of former minors serving life sentences for far more violent crimes than bank robberies. If charged, the boy will have to attend a hearing at juvenile court with his parents.
[Screenshot via ClickOnDetroit]