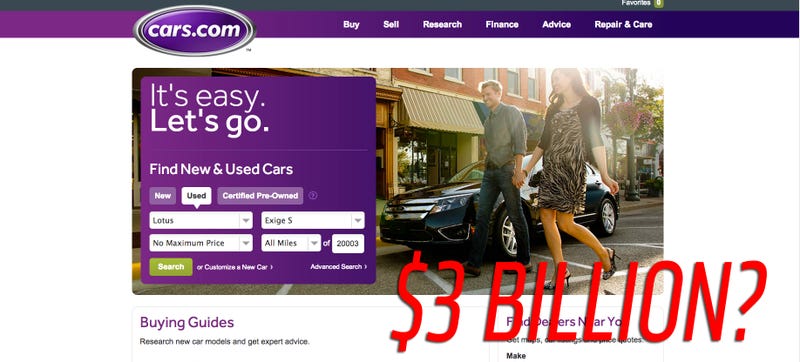 How much is Cars.com, the place people go when they're not sure what they want, really worth? About three times what Facebook paid for Instagram. The newspaper consortium that owns the site is putting it up for sale, and they hope to make as much as $3 billion from unloading it.
I know, $3 billion! Who would have thought all of our searches for Land Rover Defenders, 1980s Toyota Supras, Porsche 944s and other random crap we fantasize about but will never actually buy were really worth that much?
But the Wall Street Journal reports that newspaper publishers' group Classified Ventures — which includes old media giants like Gannett, Tribune Co. and Belo — has already begun discussions with potential bidders for the site expected to include private equity firms and strategic investors. Cars.com is said to generate $400 million to $500 million per year, and a new owner could add $200 million annually to that.
The sale and stunning value of Cars.com is the latest example of what a huge deal middleman deal sites are these days, including and especially ones that help sell cars. Cox Enterprises bought back their share of AutoTrader in January to the tune of about $7.2 billion. As the U.S. gradually rebounds from the recession and starts to buy cars en masse again, sites like these are increasingly the tools people turn to, not their local newspaper classified ads.