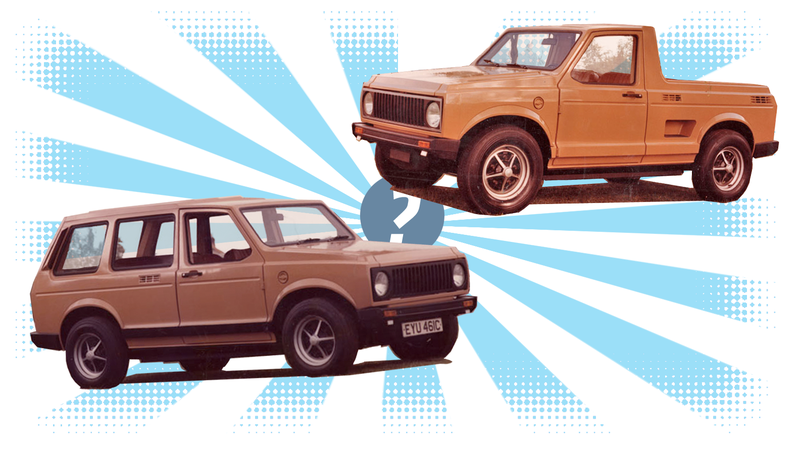 Take a nice long look at those two handsome vehicles up there. They have that clean, square-jawed look of an early Range Rover, don't they? They look like rational, practical examples of mid-late '70s truck and SUV design. There's something very surprising about them, though. Think you know what it is?
They're Beetles.
Well, to be a bit more accurate, they're both built on a standard Volkswagen Type I, rear-engined chassis. In this case, that chassis was built by Volkswagen of South Africa, as some experimental prototypes to try out some new body design and materials ideas for future, VW aircooled-based cars and trucks.
These images were sent to me by Andy Ryan, where they're part of this page that's full of fascinating VW prototypes and a likely source for many future stories here. (Andy also does some delightful car art you should check out, too.)
As someone who actively and obsessively seeks out obscure VW prototypes and strange stillborn concepts, every time I encounter something new, I'm filled with awe and wonder at the vastness of the world that's still unknown to me. It's humbling, and I relish that shaky feeling of wonder and disbelief that happens whenever I encounter some forgotten VW prototype I never knew before.
And these right here, these astoundingly un-Beetle-like rugged vehicles, these are a wonderful dose of this glorious madness.
Looking at them, there's a number of clues that reveal their origins. I think if I just saw these pictures with no context, there's a few things I could puzzle out from just the images:
• First, I can tell they're South African because of the little white reflectors under the indicators on the bumper. Those were required on all South African cars up until around the early 1990s.
• The fuel filler location on the front fender suggests a front-mounted gas tank, something unusual for a car with a front-mounted engine.
• The little air-intake vents on the sides of both cars and the larger air scoop on the D-pillar of the SUV also hint at an unexpected engine location.
• Those awesome wheels were also used on the South African VW 1600 S and the Fun Bug and other Beetles.
• If you look carefully, you can barely make out details of the VW chassis and the front torsion tube suspension.
I haven't been able to find out anything about these cars anywhere else on the Internet, at least not yet. They seem to have bodies made from plastic and fiberglass, which sort of makes them like South African versions of the Gurgel cars, which put SUV and truck plastic bodies on standard VW chassis.