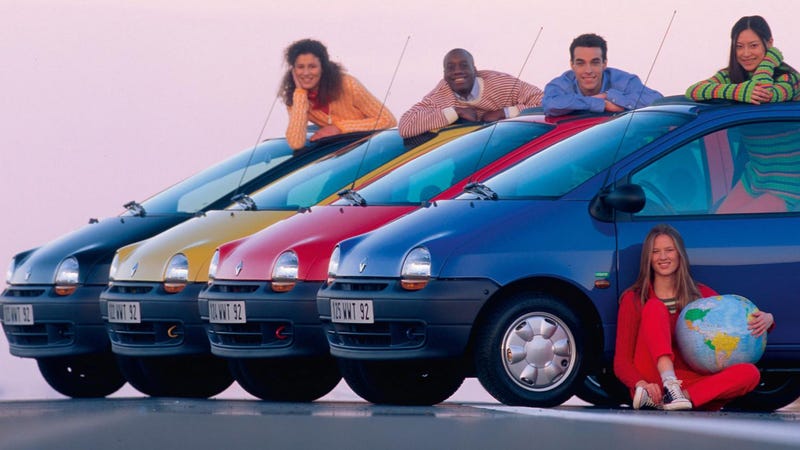 The original Renault Twingo is right there at the top next to such European economy car classics as Giugiaro's Fiat Panda, the Mini, the Golf, and the Peugeot 205. Two decades have passed since its introduction, but it's still a funky little bubble.
Renault's lineup was so boring in the early nineties with the R9 and the R11 that chief designer Patrick le Quément felt the need for a radical move. But his concept came from abroad.
The Twingo's monobox architecture originates from a prototype made for Polish car company FSM by the BOSMAL Automotive Research and Development Center. They came up with the Beskid for the 'Mono-Box' ECO 2000 car project between 1981-84, a design exercise in which Renault also participated. The Polish did not patent their car as it was supposed to become the Citroën AX later on. That did not happen. Instead, FSM ended up building the Fiat Cinquecento, and four out of the seven Beskid prototypes got destroyed.
The idea was simple. The Twingo had to be an attractive, easy to like city car that's comfortable for four adults, big enough to carry shopping, light and agile for city traffic and most importantly: fun to own. With the wheels pushed right out to the four corners maximizing interior space, one wheel size, a single 1.2-litre, 55hp engine and one interior trim level featuring electric windows and apple green control stalk at its launch, the Twingo was ready to take on the busy streets of Europe by the end of 1992.
Four colors were available (Outremer Blue, Corail Red, Coriandre Green and Indian Yellow) and only two options could be specified: a folding canvas roof and climate control. It came with an electronic centrally mounted instrument panel consisting of a speedometer, fuel gauge and clock, with the odometer and trip recorder selected by pushing a button on the end of the steering column stalk, a rather futuristic feature at the time.
It has easily topped its class in terms of height, width and knee room, most notably thanks to its innovative sliding rear seats. All four could be folded flat to create an impromptu double bed, just in case you wanted to lay down a while for something in true French fashion.
In the meantime, Renault advertised it as a dynamic, vibrant car that "people bought for themselves, not to impress others". They weren't far off.
It probably even became popular amongst off road enthusiasts after a Frenchman covered 150,000 miles in a Twingo across the Australian outback in order to prove its durability. No alloy wheels, just a bull bar.