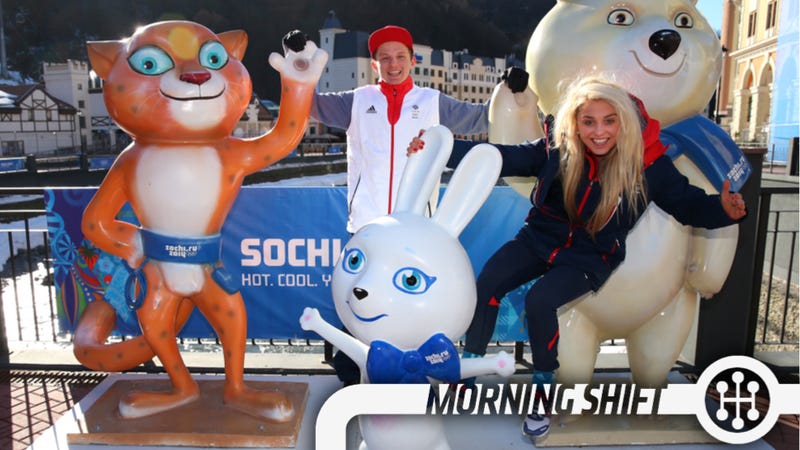 This is The Morning Shift, our one-stop daily roundup of all the auto news that's actually important — all in one place at 9:30 AM. Or, you could spend all day waiting for other sites to parse it out to you one story at a time. Isn't your time more important?
1st Gear: Finding New Roads/Customers
If you want something to look forward to while pretending you're not enjoying the Ice Dancing finals your girlfriend is making you watch, just know that the commercials will be Chevy-heavy during the olympics this year.
After a fairly mediocre but inoffensive Super Bowl party, the brand is moving a huge amount of coverage to the Winter Olympics in Russia, with 11 new commercials broadcast up to 400 times according to Automotive News.
The ads will try to recast the brand as a whole now that, you know, the cars are almost uniformly not terrible:
"One of the things that still holds us back a little bit is the brand ... the perceptions of what Chevrolet is," Mahoney told reporters last week during a group interview at GM's headquarters here.
Good luck with that.
2nd Gear: At Least Lincoln's Making Money
It may be the soft bigotry of low expectations, but I guess when you're a Lincoln dealer you look for any glimmer of hope you can find. Right now it's that, despite terrible sales last year, profits were actually up on the back of a Lincoln MKZ they're not having to give away.
Say what you will about the MKZ being a tarted up Fusion, we particularly like the Fusion, so how is that a bad thing when the vehicle is making $6,000 more than the outgoing model?
Karl Henkel found a few people feeling giddy about Lincoln's performance going forward which, hey, the longer the brand survives the closer we get to them building a car we want.
3rd Gear: This Isn't Your Coke Dealer's Maserati!
The only car ad that really moved me last night was Maserati's, even if it was a touch overwrought. It got us talking about Maserati, it got people searching for it.