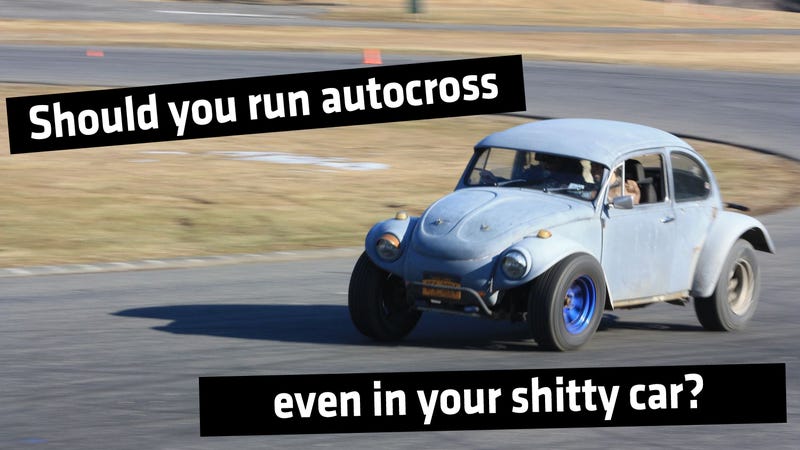 Autocross: is it just an excuse to talk about buying swaybars? No! It's an extremely cheap way to do excitingly stupid things in your car, even if your car is a hunk of crap like mine.
There are two problems with autocross: it's not sexy and it's intimidating for everyone who isn't driving a tuned BMW E36 M3 or a lowered '90s Civic hatchback.
There are good reasons why you should ignore those problems:
It's cheap.
It's easily available.
It's a hoon's paradise.
I know this because I just took my car to an autocross, and I have no experience doing autocross, and I drive the most unsuited car to autocross possible: a rolly-polly 1973 Baja Bug. I did just about everything wrong for doing an autocross right, and I still had an amazing time. Let me explain how it all happened, and you'll see why autocross isn't a bad idea, even if you don't think it's for you.
Photo Credit: Raphael Orlove
If you're absolutely unfamiliar with autocross here's an in-depth primer, but basically you show up to a big parking lot, drive a course set out with cones, run a few laps as fast a lap as possible, then spend the rest of the day working the event picking up knocked-over cones. What you learn is car control. You learn the course quickly and you spend the rest of your day focusing exactly on how to put the exact right amount of steering into every turn, not more not less. How to put the exact right amount of power down after ever turn, not more not less (oversteer is as big a crime as understeer in the world of competitive autocross). How to drive at the absolute limit of your tires, not more not less.
What I did was different than that, but the end result was the same.
I hopped into my one car, my 1973 Baja Bug. Once rolled, once frozen, often repaired on the side of the road. Well, I didn't just hop into my car, because I had to go to the South Bronx to pick up a new starter motor because I roasted the last one, then I swapped that in, then I hopped into my car, then I drove north for just under two hours to get to Lime Rock Park, Connecticut.