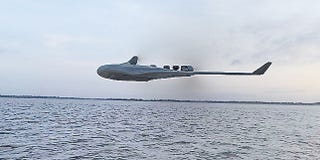 A recent report from CNN discusses a new flying boat concept that could transport up to 2,000 people across the Atlantic Ocean while reducing airport congestion and noise. This could be an amazing aircraft, unlike anything that's ever flown before, but don't be fooled into thinking the idea is commercially viable.
Designed by Drs. Errikos Levis and Varnavas Serghides of Imperial College London and Frederick University, the idea is a scalable flying boat design that could eventually produce several aircraft in varying sizes. Their concept has up to eight engines and uses a blended wing body planform. It also has a V-shaped hull to allow takeoffs and landings from water, and could be powered by environmentally-friendly hydrogen fuel.
The designers describe an aircraft capable of transonic flight, with a cruise speed of Mach .80 and a cruising altitude of 35,000 feet. This would maximize flight efficiency and minimize specific fuel consumption while voiding the need for a vertical tail. Their aircraft would use high-bypass turbofan engines like those found on modern airliners, only installed atop the aircraft's trailing edge instead of under the wings.
The History Of The Flying Wing
Blended wing body aircraft are not new, having evolved from flying wing designs in the early 20th century. The flying wing concept (which has no explicit fuselage) dates back to the golden age of flight, when the Nazis developed the idea to a high degree during and before World War II. The jet-powered Horten Ho 229 flew in 1944 and was capable of delivering 2,200 lbs. of ordnance across the Atlantic Ocean before returning to base in Germany, although it never did.