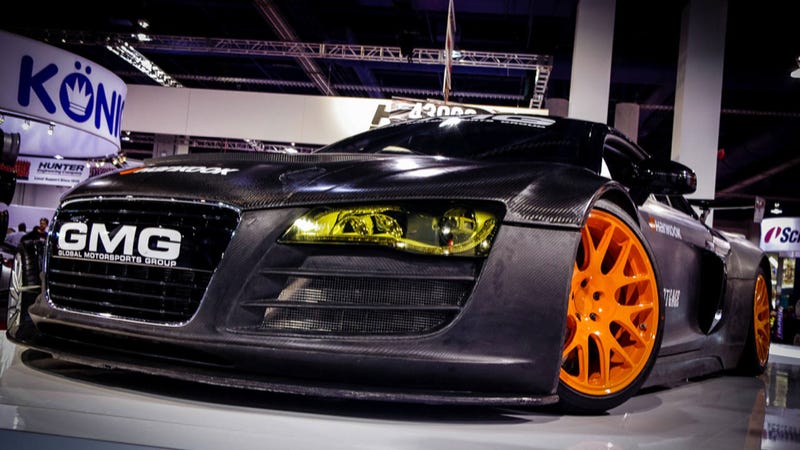 This upcoming week brings us the Specialty Equipment Manufacturers Association Show, commonly known as SEMA, held each autumn in Las Vegas. For years it's been a bit of a weird boondoggle, almost trying to appeal to everybody and yet nobody at once. This year, though, it might have finally aged into a nice vintage.
I'm actually going to SEMA this year, so I'll be able to tell you the answer for sure. At the moment, though, it seems like it's a bit of a dispute. I had some discussions with my lovely fellow Jalops over the past few weeks when I told them I was going. Their responses were less than favorable:
You know the prison in Dark Knight Rises? That's SEMA.

It's all just crap. Crap wheels, crap exhausts, gross Fast and Furious cars.

Who is SEMA supposed to appeal to?

This whole SEMA thing is terrible and fantastic at the same time. Very American.
Very American, indeed. SEMA has historically been everything amazing and awful about cars all wrapped up in one. It's all of the creative juices of expression, pure and holy, funneled into an acid-fueled kaleidoscope blender of poor taste. It's like taking a beautiful, dry-aged steak that you just got home from Bryant & Cooper, frying the already-cooked deliciousness in nothing but pure Crisco, and then throwing some Big Mac special sauce on it and calling it "aftermarket."
It's like taking an Audi R8 V10, making it stanced, and throwing on some stickers and orange wheels.
It's like throwing scissor doors and a weird Cylon-face onto a Toyota Prius.