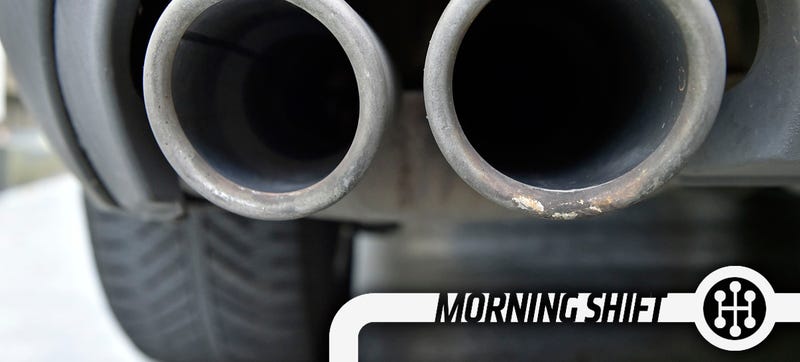 Good Morning! Welcome to The Morning Shift, your roundup of the auto news you crave, all in one place every weekday morning. Here are the important stories you need to know.
1st Gear: It's Time To Make Worldwide Emissions Standards
That sounds like a good idea, doesn't it? In the wake of Volkswagen's diesel emissions scandal, it's what General Motors' powertrain chief Dan Nicholson thinks the world should do. And since he's the incoming president of the International Federation of Automotive Engineering Societies, he's going to push for that change to be made, according to Automotive News:
He said the differences between upcoming European Union tailpipe emissions standards and those set by the EPA were small in terms of actual emissions. However engineering the same cars to pass them both was costing "hundreds of millions of dollars" a year across the industry.

"We want all our engineering resources focused on improving air quality and reducing CO2. With different sets of rules, we have to put our engineering resources into nuanced regulatory differences rather than working on the root problem," he said.
It might be better to put resources into actual, more rigorous testing procedures as well, if regulators want to really detect emissions cheating.
But Nicholson's approach makes sense, especially in an increasingly globalized car market. Can we get globalized safety standards while we're at it, too?
2nd Gear: VW Sales Down
Not surprisingly, Volkswagen (the brand, not the conglomerate) is taking a sales hit in the wake of Dieselgate. The first full month of global sales following their admission of diesel cheating experienced a drop; the continuing declines in Russia and China aren't helping either, reports Bloomberg:
Deliveries fell 5.3 percent to 490,000 vehicles last month and were down 4.7 percent at 4.84 million cars in the January-to-October period, the Wolfsburg, Germany-based manufacturer said in a statement Friday. Sales growth fell far short of the rest of the market in China, where VW sells nearly half of its cars.
3rd Gear: Audi's Making Out OK Though
Despite being in the same boat as VW with some diesel models, Audi is doing alright at the moment in the U.S. and Europe, though they came in lower than BMW and Mercedes recently. From Reuters:
Sales of Audi's luxury cars and sport-utility vehicles (SUV) rose 2 percent to 149,200 models, with gains in Europe and the United States offsetting a drop in China, Audi's biggest market, it said.

Deliveries in the United States jumped 17 percent to 17,700 cars, an October record for Audi even as some of its models such as the A3 compact and Q5 SUV are affected by parent VW's rigging of diesel emissions tests there.
4th Gear: The Jeep Wave Benefits
Since Jeep is having such a hard time selling cars right now (that was a joke they're selling tons of cars) they're about to introduce a benefits program for people who buy 2016 Grand Cherokee Summit, Overland and SRT models or a 2016 Wrangler. It's called the Jeep Wave, like the owners give to each other. Here's Automotive News on a discovery that originally came from Allpar:
Among the benefits of Jeep Wave:

• Two free oil changes with tire rotation per year of membership.

• A dedicated toll-free member service phone number.

• Preferential treatment at Jeep events nationwide.

• Savings on certain Jeep accessories.

• No-charge loaners when vehicle is in service for routine maintenance.

• Up to $1,000 in road trip interruption insurance coverage.
Nice benefits.
5th Gear: Ford First To Test At Mcity
Remember Mcity, the 32-acre test site in Michigan for autonomous vehicles? It looks like Ford will be the first automaker to test cars there, according to The Detroit News: