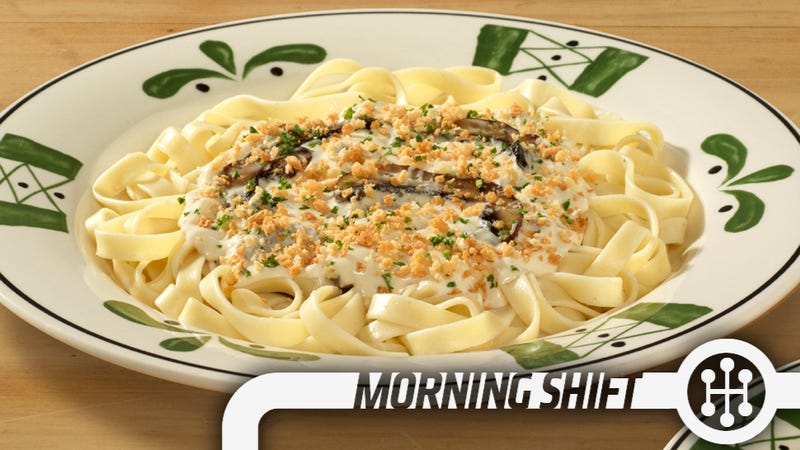 This is The Morning Shift, our one-stop daily roundup of all the auto news that's actually important — all in one place at 9:00 AM. Or, you could spend all day waiting for other sites to parse it out to you one story at a time. Isn't your time more important?
1st Gear: Ok, Maybe Not The Olive Garden But...
The one thing that's going to trip this economy up (ok, one of the things) is lower consumer confidence, which we suddenly have again. Granted, lower consumer confidence actually makes sense because you're all worried about your jobs and worried about stagnant wages.
Yes, rich motherfuckers are getting richer and you haven't gotten a raise in two years and you're just happy to have a job even if it's a job you don't even like. Curiously, you're also all buying cars. This is great. Car purchases create jobs, even if they're not as many jobs as they created in the past and maybe some of those jobs are in Mexico or China or, GASP, Canada.
And while you're all out buying Ford Fusions and Mazda CX-5s and countless Corollas, you've cut back other places. You aren't going out to eat as often. You're not buying new shoes. You're not doing all of those other things we need.
The holiday season is coming and, while buying all of your shit at one time in a frenzy of consumerism is kind of fucking stupid we've built the retail economy on it so one-click the hell out of that Amazon wish list because if you don't and the economy tanks again cars will soon follow, and that will kill all the fun cars automakers are planning or just starting to sell.
What's that you say? Wouldn't it be better if we just let wage growth at the lower end, like, minimally track corporate profits and CEO pay? No, that's vaguely like something that could maybe be considered socialism, and America hates socialism almost as much as they hate dieting.
So stuff your face with endless breadsticks and pasta until your stomach explodes because papa wants a BRZ.
2nd Gear: Oh Chrysler And Everyone
I know the whole Chrysler IPO thing is confusing and the document is 396 pages and no one is going to read that, but we should make one thing clear here when we get all excited about the CULT OF SERGIO.