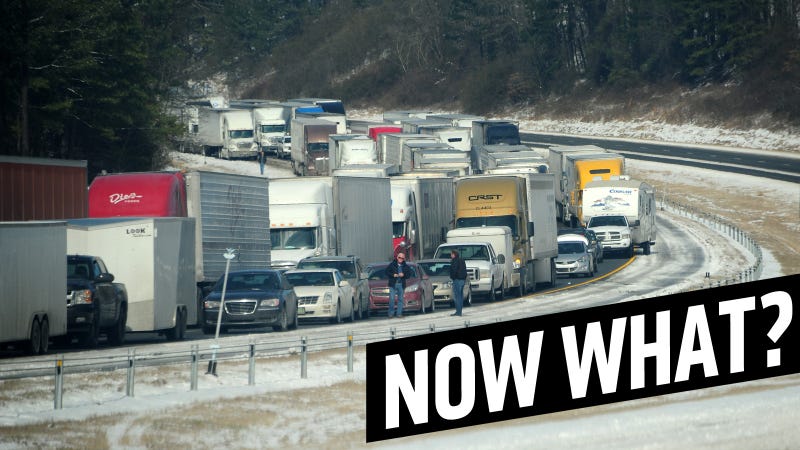 Everyone knows you should prepare for bad weather with supplies in your car and an eagle eye on the weather reports. But what should you do if you get caught in your car unexpectedly? Here are ten do's and don'ts to keep you calm and safe.
---
10.) Do Let People Know Where You Are
If you're stuck out in the middle of nowhere, let people know where you are. This may be your family, your work, or your local law enforcement. All three might not be a bad idea.
Suggested By: autojim, Photo Credit: AP
---
9.) Do Turn Off Your Engine When Stopped
If you're going to be stuck not movie for hours on end, save gas and only turn on the car for the heater when necessary.
Suggested By: KDS, Photo Credit: AP
---
8.) Do Check Your Tailpipe
If you're in snow and ice and you're running your engine, check that your tailpipe hasn't gotten blocked. If it is, clear the snow and ice out. Otherwise, carbon monoxide can leak back into the car and kill you. It's a very simple check with very grave consequences.
Suggested By: ninjagin, Photo Credit: Oregon DOT
---
7.) Do Leave Room To Turn Around
Don't tailgate on a snow-bound highway. Your highway may be completely impassable, and if you're boxed in, you won't be able to get off.
Suggested By: shift24, Photo Credit: AP
---
6.) Do Take Local Roads When Necessary
Going along with that last piece of advice, the highway may not be the best way for you to get places in really awful weather. Minor roads can be dangerous, but they might be better than a highway.
Plan your route ahead, and especially think of things to avoid (like a big hill between you and your house).
Suggested By: MaWeiTao, Photo Credit: AP
---
5.) Do Know When To Get Out Of Your Car
If there's just a bit of fishtailing ahead of you, it's not a good time to abandon your vehicle and block the road behind you. And if you're stranded off to the side of a fast-moving, slippery road, standing outside your car can be more dangerous than waiting inside.
But there's a right time to get out. If you get stuck in the snow, get out and check your surroundings. There might be a fast food place or a bus road just out of your line of sight, as this almost tragic story explains.