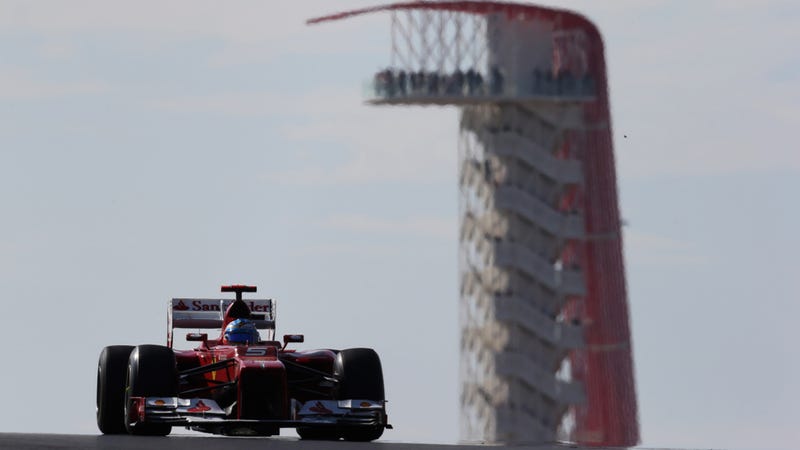 It's the week before the United States Grand Prix—do you know where your tickets are? Lucky you, then. Until I got my tickets late yesterday, I thought mine were wherever Kimi's paycheck is—completely missing in action. Other fans? Not so lucky.
dapper_otter ordered our group's set back in March, right when tickets went on sale. We wanted seats that were high on the Turn 12 grandstands, plus we wanted to sit as one happy pack of masochi—err, uh, past and present Mitsubishi owners.
Tickets were supposed to ship in early October, giving international fans plenty of time to get theirs in time to travel with them in hand.
Initially, the circuit delayed delivery to October 22 (per mandingo on local sports forum ShaggyBevo), and told customers to expect the package via FedEx. Then October 22 came and went, and the official word became "in the next week or two."
We locals are lucky in one regard. If you tell me that my tickets are available the week of the race at the airport Hilton or something, I can probably drop by at lunch and pick 'em up.
Problem is, this isn't just a local event, and when you're already delaying shipping tickets to international attendees during the month of the race, well, you have a very big problem. Send them too late and folks won't be at home to get them. Travel plans for grands prix are made months in advance and can be difficult or expensive to change at the last minute.
Things just got weird from this point onwards.
When I tried to look into the reasons why my tickets were vaporware for the entire month of October, the only common thread I could find in any of the reported answers was that COTA officials were giving folks a lot of conflicting information. First, the date they were supposedly mailed kept changing. Then, the remaining issues were only with customers whose addresses had changed. Or that local tickets were being mailed out last.
In response to mounting pressure from unhappy customers voicing their displeasure through various social and media channels, circuit spokeswoman Julie Loignon released this statement on Wednesday, November 6:
Our F1 USGP tickets have been shipped. They went out a week later than we originally anticipated due to some design and informational updates that Formula One Management required us to make to the ticket stock. We apologize for the delay, but guests should be receiving their tickets via FedEx or through the U.S. Postal Service, depending on whether they purchased them from COTA or ordered them online through Ticketmaster.

We are currently working to identify updated addresses for some patrons who may have moved since they placed their orders, and will get those fans their tickets as soon as possible.

We know everyone is eager to have their tickets, and we're working to make that happen.
One more issue: let's define what people expected as "their tickets." Last year, those of us who ordered tickets before the event got beautiful full-color tickets with foil inlays and slick graphics. One of my coworkers still has hers posted to her cubicle. dapper_otter said he planned to frame his from this year and last year.
Only the tickets for this year that we received yesterday look more like generic concert stubs:
Another friend who is sitting at the same turn but who purchased his tickets in the Porsche Club of America's block (a pre-assigned chunk of seats the club negotiates for directly with COTA), received the tickets everyone else was expecting:
I guess I should have purchased my 944 a couple weeks earlier. The official explanation posted in response to a customer on the Circuit of the Americas Facebook page was as such:
We just got word from our ticketing team about who gets commemorative tickets.
All 3-day tickets purchased through Ticketmaster—with the exception of PSL holders, suites, Loges, RVs, premium seats holders—will receive regular tickets. People who purchased 3-day tickets directly through the COTA office before Oct. 8 will receive commemorative tickets. Single-day ticket holders almost all receive regular tickets.
We apologize for the any confusion. We're definitely taking fan feedback into consideration for next year regarding this.
Thanks again for your support and patience. Please let us know when you get your tickets.
Best,
COTA
Given that COTA directed many of us to order through Ticketmaster and that no such distinction was made between Ticketmaster sales and the other tickets before, this has come as an unpleasant surprise to many.
Tickets are also arriving via USPS with no tracking, which doesn't seem like a fair trade-off when shipping cost $15 and was originally promised to be FedEx—with tracking.
Circuit of the Americas' default answer to all outstanding ticket woes thus far has been if your tickets did not arrive by the end of this week, they would be available at will call. Unfortunately, many ticketless customers are also waiting on parking passes, and not even the four-lane road that runs through Circuit of the Americas' property is equipped to handle a massive queue of cars outside of the plaza by turn 15.
I am not usually one to pile onto Circuit of the Americas' management for minor issues that arise with their events. COTA is a spectacular facility, an incredible place to watch racing and a fabulous new playground that's in my backyard. I can overlook small missteps as growing pains for a new facility (for now, at least), and I generally give them a lot of leeway when it comes to figuring operations issues out.