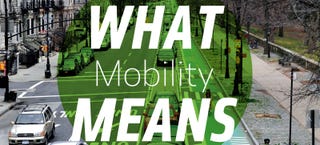 'Mobility' is a bit of a no-context buzzword these days and every transportation expert, city planner, and crazy architect uses it like the word will rain grant money down on their project like pixie dust. Here's what they actually mean when they say it.
Mobility means using a car without buying a car. That's basically it.
Well, it's a bit broader than that, but not by much. The principle just extends past cars — a 'bicycle mobility concept,' for instance, would get people to ride bikes without actually buying, owning, parking, and maintaining them. It sounds sexier than 'bike share,' mostly because it doesn't make you think about 'sharing' a bike with that sneezy guy you saw blowing snot all over himself on the way to work. It's much the same with how anything talking about 'automotive mobility' means using cars without having to buy a car, park it, gas it, insure it, and get it repaired.
'Mobility' means paying some private company or government project to do that for you.
Armed with this information, we can finally decode, for example, Reilly Brennan's admittedly wonderful article 'On The Evolution Of Driving And Mobility.'