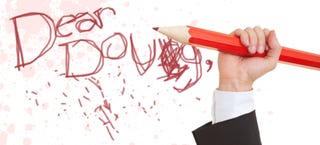 Good day, people of Jalopnik, and welcome to your latest round of Letters to Doug, which involves a) you sending letters to Doug, and b) Doug listening to Jimmy Eat World. Occasionally, I also reply to one of your letters.
If you want to participate in Letters to Doug, you can! Just send me an e-mail at Letters2Doug@gmail.com, and I will consider it for publication. I will also consider forwarding it to my friends in a fit of laughter, in case you want to tell me something like the mechanic opened the hood to your first-generation Touareg and discovered a family of lemurs living in your windshield wiper reservoir.
This week's letter comes to us from a reader I've named Omar, who writes:
Hello Doug, first and foremost, I'd like to say thank you for all those entertaining articles, videos, books, and the occasional comment on Jalopnik; keep up the good work!

My email to you today is regarding press vehicles and their eventual fate after all press members from various automotive magazines, websites, blogs, lemonade stands, etc... have driven them. What happens to these cars? Are they kept by their respective manufacturers or are they sold as demos thought dealerships?

I've always been curious about this, and if they're in fact sold, perhaps I have stumbled upon a new way of getting these "nearly new" vehicles at a discount... maybe?

Thanks Doug!

Omar
What Omar is asking here is: what happens to press cars after the press has finished using them? This is an excellent question, because we already know what happens to press cars while the press is still using them: they are treated with utmost care and respect by a wide group of highly trained professionals known for their cautious, courteous approach to other peoples' possessions.
Ha ha! What I mean, of course, is that the cars are ridden like Zenyatta on the back stretch at Belmont.
But there is one difference between a race horse and press cars: if you want to ride a race horse, you have to know what you're doing. If you want to get a press car, you only have to know the name of the press car guy. You also have to run a blog that gets some number of visits per month. Based on some of the people I know who get press cars, I believe this number includes wives, mothers, dozens of rapid presses of the reload button, etc.
So the journalists treat press cars with utmost care and respect, and then the automaker takes eventually them back. Then what?
Well, Omar, your note couldn't have come at a more appropriate time, because just this week it came out that some guy in the U.K. discovered that his own personal BMW M3 had been previously used to film an episode of Top Gear, which meant that it was subject to an enormous amount of utmost care and respect, if you understand what I'm saying. Naturally, this guy was having problems with the M3, which the dealership graciously bought back and inexplicably replaced with a BMW 330d.