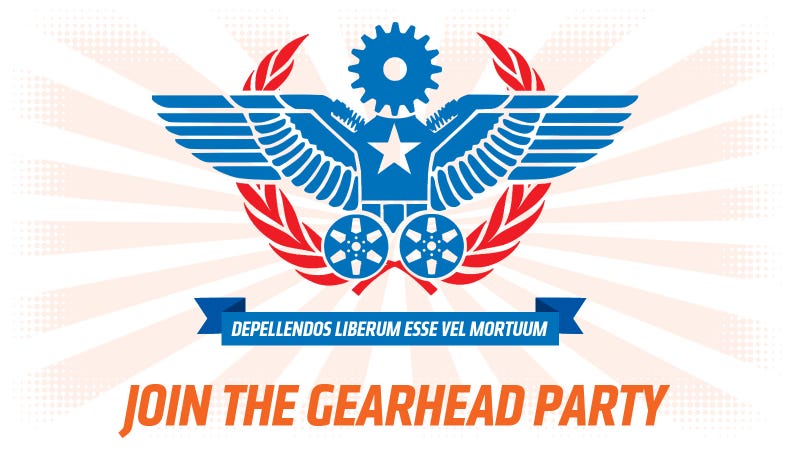 Here's the cold, alarming truth: neither of the two big-party candidates running for president cares about your car. Not the one with the emails or the anthropomorphic cheese log with a crush on Vladimir Putin. Neither has mentioned anything about the things gearheads care about, like import car laws or repealing the Chicken Tax. That's why I have a plan. We need a Gearhead Party.
Unlike the Republicans and Democrats, or even the lesser parties and the weirdos who advocate for them, the Gearhead Party's only focus is on issues that affect our love and appreciation for cars.
We're not going to touch any of the big, trickier problems here: leave that crap to the other parties. Those issues have plenty of attention. What has very little attention are the desires and rights of patriotic citizens who reek of gas and oil; the great, dirty-fingernail'd mass of upright, moral citizens who just happen to love that most human, most noble product of human hands, the automobile.

It's time our voices were heard.
While I don't have some tedious, flowery manifesto (I'm still busy collecting blood and used motor oil to paint that on a Corvair trunk lid) I do have a platform: a dozen political goals I'd like to achieve. I also have a general statement of mission:
The Gearhead Party seeks to improve the lives of all Americans via the creation of a National Carscape and Automotive Culture that is more open, accepting, varied, and free, understanding that respect for the driver and owner and the trust in their responsible decisions will provide a safer, better, and more inspiring automotive life for every American.
Or, you know, something like that.
Here's the Gearhead Party's full platform, the V12 of the American Driver's metaphorical supercar:
1. Lifting the 25-year import rule
Don't believe anyone who tells you that the rules against importing non-U.S.-spec cars that are newer than 25 years old is about safety or emissions. If that was the issue, why would you be able to import an older car, which will absolutely be less clean and less safe?
This law was started by car companies and dealers, who want to protect not so much you, but the money that you could be giving them.