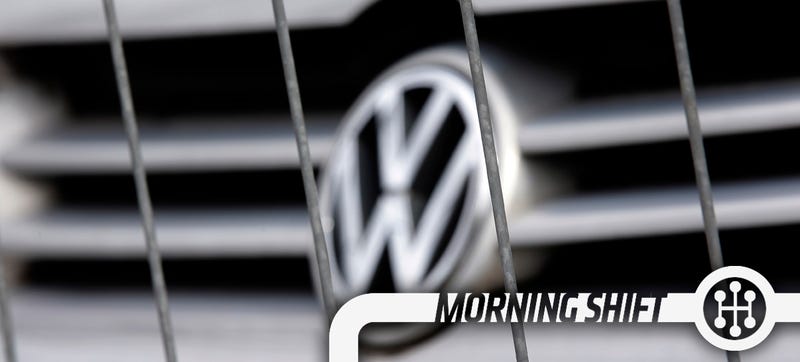 Good Morning! Welcome to The Morning Shift, your roundup of the auto news you crave, all in one place every weekday morning. Here are the important stories you need to know.
1st Gear: Profiles In Courage
We're seeing some real character on display over at Volkswagen. The automaker, strapped for cash over the rising logistical and legal costs of the diesel cheating scandal, has decreed that its top managers will forego their 2015 bonuses entirely.
Oh wait no, I'm sorry, I misread the story; they agreed to cuts of at least 30 percent cut to their 2015 bonuses. Here's Automotive News:
Volkswagen Group Chairman Hans Dieter Poetsch and other top executives will have their 2015 bonus payments cut "significantly," the automaker said today.

VW's second-largest shareholder - the German state of Lower Saxony - wants management bonuses to be scrapped altogether while VW's powerful labor leaders have also been pushing for bonuses to be scrapped or lowered as the automaker counts the multi-billion-euro costs of its emissions-rigging scandal.

In a statement today, VW said the supervisory board and management agree that the company needs to send a signal on top management pay.

Various models are being discussed that would be "appropriate and fair for everyone," the statement said, adding that the move would lead to a "significant reduction of variable pay."
You might be thinking, "Forget cuts, why get a bonus at all when your company is mired in one of the biggest automotive scandals ever and fighting for its very survival?" And the answer is... reasons? I guess?
2nd Gear: The Path Forward
Speaking of scandals, the General Motors ignition switch fiasco is working its way through litigation with as series of six "bellwether" cases, but so far all of them have gone in favor of GM.
Nonetheless, lawyers for the plaintiffs suing the automaker say they will press on, reports Reuters:
Last week, GM (GM.N) avoided an upcoming trial by settling what was considered by plaintiffs' lawyers to be one of their strongest cases, involving a father of five who was killed in a 2013 crash. The next day, the parties agreed to dismiss the next case slated for trial, brought by an Alabama man suing over crash injuries from 2013.

Still, a lead lawyer for plaintiffs, Robert Hilliard, said this week they are prepared to press forward and will discuss "all options" with the court for the next trials.

A case initially set for trial in September – brought by a Virginia woman who said she suffered traumatic crash injuries in 2011 - could be ready as soon as late June, Hilliard said.
3rd Gear: Ford R&D Gets Some Updates
Ford is more forward thinking when it comes to technology and mobility than a lot of automakers, and it's soon going to get the R&D center to match that ethos. Here's Automotive News on the revamp to the Detroit-area campus:
Changes detailed by the automaker today include a new design center to replace the sprawling product development center and historic design dome, a more walkable layout and a building that showcases Ford's commitment to sustainability by creating zero waste and generating its own energy. The new product campus, expected to be mostly complete within seven years, will be served by a network of autonomous vehicles, on-demand shuttles and electric bikes, Ford said.

Ford also said it would renovate its nearby world headquarters building, known as the Glass House, starting in 2021. It's planning a new home for Ford Motor Credit Co. connected to the Glass House and other changes to its immediate surroundings to be finished by 2026.

"As we transition to an auto and a mobility company, we're investing in our people and the tools they use to deliver our vision," Ford CEO Mark Fields said in a statement. "Bringing our teams together in an open, collaborative environment will make our employees' lives better, speed decision-making and deliver results for both our core and emerging businesses."
4th Gear: The Recall Push Comes To Insurance
Ever since the aforementioned GM ignition switch mess, and the Takata airbag thing as well, we're in the era of Big Recall; automakers are far less hesitant to order a huge callback of cars to fix safety issues that arise.
Problem is, actually getting people to bring their cars in for repairs is hard. The recall fix rate in the U.S. is much lower than it should be. So now automakers like GM, Toyota, VW, Ford and more are calling on insurance providers to help find a way to notify owners of open recalls. Here's Reuters:
The letters reviewed by Reuters ask insurers including State Farm, Liberty Mutual, Geico, Progressive and Nationwide for "assistance in establishing a new way to provide vehicle owners with information about any open safety recalls that may affect their car or truck and to urge that owners have the recall work performed as soon as possible."

The Insurance Institute for Highway Safety, an industry funded group, did not immediately comment on the request.

About 25 percent of all U.S. vehicles recalled are never fixed, the letter said. Carfax said in February that more than 47 million U.S. vehicles have at least one uncompleted recall.

NHTSA Administrator Mark Rosekind told Reuters on Friday that automakers can do a "huge amount" to improve recall completion rates. The issue has gotten renewed attention after the death of a 17-year-old motorist in Texas who was killed on March 31 when a Takata air bag inflator ruptured in her recalled 2002 Honda Civic that did not have recall fixes performed.
5th Gear: Hacker Magnets?
How concerned should we be over the vulnerability of connected cars to nefarious forces? At least one top Justice Department official is very concerned about the implications. Here's Bloomberg:
"There is no Internet-connected system where you can build a wall that's high enough or deep enough to keep a dedicated nation-state adversary or a sophisticated criminal group out of the system," John Carlin, U.S. assistant attorney general for national security, said Tuesday at an auto industry conference in Detroit.

[...] Hackers of all varieties could try to do harm through connected cars, he said.

"If you were able to do something that could affect a large scale of an industry — like 100,000 cars — you could see that being in the arsenal of a nation-state's tool kit as a new form of warfare," he said.

"We've seen rogue nation states try to assassinate those that do not share their beliefs," Carlin said. "If they were able to do it remotely through a car, I don't see why they consider that a safe zone."

Reverse: RIP