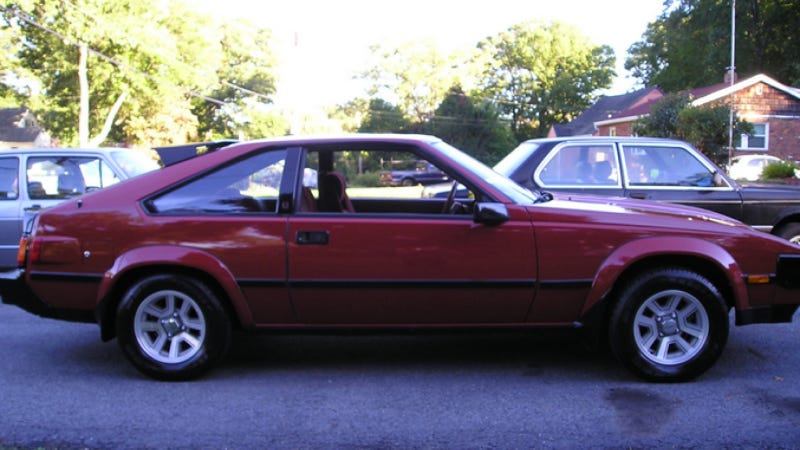 Welcome to Used Car Face Off, where we find two similar or similarly priced used cars and ask you which one you would buy. Choose wisely!
This week is all about the automotive equivalent of cars that went around with big shoulder pads and big hair. Japanese super coupes of the 1980s may never be considered aerodynamic milestones or even performance kings, but they were sure memorable. Today, there's little out there like them with sharp edges and orange gauge markings.
Naturally, they deserve a place in history. Which is why I've picked two quintessentially '80s super coupes for you to ponder today. Both are red, angular things that actually look a lot alike when you put them together. Both would be totally awesome to drive around everyday, in theory at least.
A second generation Toyota Supra isn't the most uncommon thing in some of the less rusty parts of the US, but fewer and fewer are unbattered and uncrashed examples. And let's be honest, a 1983 Supra in red is a good-looking wedge. Of course, it had a handsome starting off point in the Celica, as this was back when Toyota's little sports coupe shared a lot with its powerful big brother.
Power came in the form of a straight-six powering the rear wheels only, too. There wasn't much of it though, only 150 horsepower going through that five-speed manual.
I've always liked these old Supras and this one is a nice, carefully worn-in 61,000-mile example. While Supras may have had swollen wheel arches and big alloy wheels, they weren't as showy as some other coupes (like the one I'll get to in just a bit). And it has a straight-six and rear-wheel drive. As the car gods intended, right?
Of course, you could have something completely forgotten like a 1987 Chrysler Conquest TSi. No, this isn't American in any other way than originally being sold by a Chrysler dealer. It's a Mitsubishi Starion with a couple of badge-related changes thanks to the bizarre Chrysler/Mitsubishi relationship. Perfect, because the Starion didn't need design changes. With its sharp edges and even fatter alloys than a Supra, it's one of the most distinctive cars of the era. Did anyone have a Starion/Conquest poster in the '80s? Did one even exist?