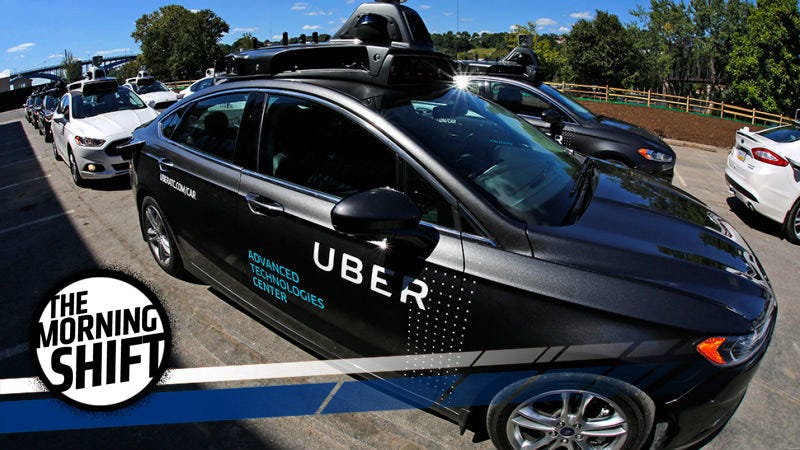 Good morning! Welcome to The Morning Shift, your roundup of the auto news you crave, all in one place every weekday morning. Here are the important stories you need to know.

1st Gear: Uber Says It's As Popular As Ever, Standing By Brazen CEO
Uber typically doesn't hold press calls, but in a continued effort to reshape its not-so-good public perception, a few company execs hopped on the horn with some reporters yesterday to chat about its current affairs. Yes, its CEO Travis Kalanick—who is 40 and said, after he was caught on camera arguing with an Uber driver, that he needs to "grow up"—has been a problem for the company. But the ride-hailing giant's board, perhaps remarkably, is standing by him, reports The New York Times:
Of paramount importance, the company stressed, is Uber's search for a chief operating officer to help Mr. Kalanick. In addition, Uber is overhauling its human resources department, improving its relationships with drivers, and soliciting feedback from concerned employees. The company also plans to release a report on the diversity of its work force this month, and will conclude an investigation into its workplace culture by the end of April.

"The board is confident in Travis, and we are proceeding ahead with the search for the C.O.O.," [board member Ariana] Huffington said during the call. "Put very simply, change starts at the top."
It might be simply a business decision to stay with Kalanick, even if he's the leader of a company that's accused of fostering an environment of sexual harassment. Recode reports that Uber received more ride requests in the U.S. last week than ever before. That'd mark quite a (quiet) turnaround.
Anyway, Kalanick wasn't on the call, as he was helping conduct COO interviews. But the unstated point here is that, with the support of Huffington, it'd take an even more extraordinary circumstance for Kalanick's ouster. Kalanick supporters reportedly make up a majority of Uber's board of directors, so a scenario that ends with Kalanick's exist seems unlikely. But who knows, when you're running a company that's at the center of an explosive intellectual property lawsuit involving self-driving car designs, I guess anything's possible.