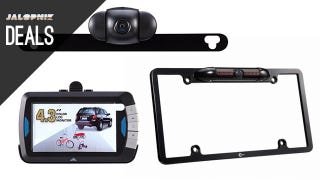 We've got not one, but two good deals on backup camera systems today. The Peak system includes a viewing screen, but the cheaper Esky model has a wider angle camera (170 degrees vs. 110), and a license plate frame mount.
Peak PKC0BU4 (4.3'') Wireless Back-up Camera Kit ($76) | Amazon
Esky Rear View Camera Kit with 8 IR Night Vision ($31) | Amazon | Promo code CF7SVNFH
---
Get these deals and more, and earlier on Deals.Kinja. Connect with us on Twitter and Facebook to never miss a deal, check out our Gaming and Movie/TV release calendars to plan your upcoming free time, and join us for Kinja Co-Op to vote on the best products. Got a deal we missed? Post it in the comments with a link and we'll share right to our Deals homepage.
---
If you're going toe on your back under your car for an extended period, this 3/4" thick work mat will make your garage floor feel far more forgiving. [Bedrug TrackMat 2'x4' Work Mat, $19]
---
Everyone loves a good pegboard wall, and this one is made from 20-gauge galvanized steel, so you know it will last. [Wall Control Pegboard Tool Storage Kit, $85]