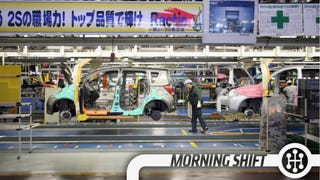 This is The Morning Shift, our one-stop daily roundup of all the auto news that's actually important — all in one place at 9:30 AM. Or, you could spend all day waiting for other sites to parse it out to you one story at a time. Isn't your time more important?
1st Gear: Let's All Party Like It's 2008
A sinking yen has made meant increased profits for automakers in Japan, who have had to deal with a fairly stagnant economy. With that in mind, and with a sales tax increase coming, Prime Minister Shinzo Abe has pleaded with companies to increase worker pay.
Great News!
Bloomberg's newest Japanese reporter says Toyota's unionized workers will get their first raise since 2008 and it's $26 in base pay per month — or 2,700 yen.
Nissan gave their employees 3,500 yen and Honda is the most miserly at 2,200 yen.
The hope is that this will help Abe turn the economy towards growth and inflation.
2nd Gear: VW's Beigekrieg Rolls Towards 10 Million Sales
Two very nice guys from Volkswagen are coming up to NYC today to talk about their plans for the future and, possibly, ask why we keep referring to their strategy as the "Beigekrieg!" They will almost certainly by us lunch.
On that note…
MARTIN WINTERKORN DECLARES 10 MILLION DELIVERY BEIGEKRIEG THIS MONTH
VW came so close last year with 9.72 million vehicles pushed, just barely topping General Motors. Europe is slowly turning around and China is still the bomba, so hopefully that's enough.
Also, is that a vinegar stroke?
3rd Gear: Mini Cars To The US!
We're fans of small European cars here at Jalopnik, with the one caveat that we're not big on the Smart Fortwo.
The Mini has done well here, as has the Fiat 500. So what of other options? The Detroit News has a call-to-action today for those of us who want to see products like the Opel Adam and Toyota Aygo: