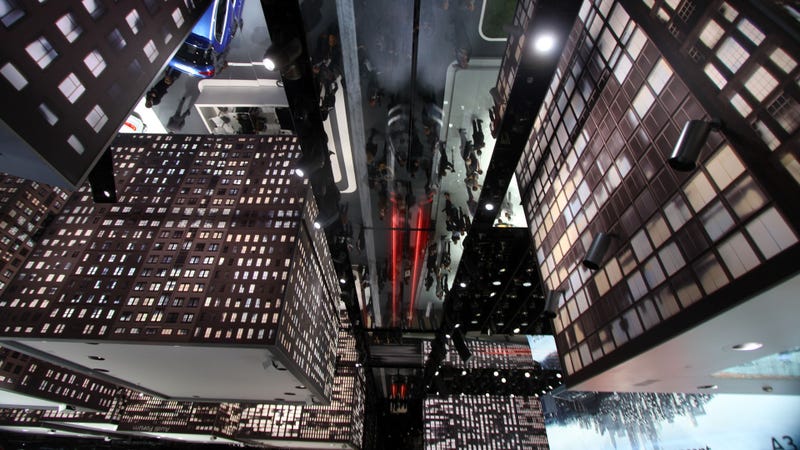 Visitors to this year's Frankfurt Motor Show will walk through an inverted forest, over an Inception'd city, and under a massive floating track just to see Germany's latest cars. As the biggest auto show in the world, by size, what carmakers do to the massive convention space is as interesting as the cars they display.
All three of the big German premium carmakers are trying to attract attention from convention goers at their home show in the hopes that they can reinvigorate a sagging market. So what's their angle?
I believe Mercedes wants to tell you that they are the greatest. Always were, always will be. Audi on the other hand says hey, look at us, we can do anything. We are the most advanced of them all. BMW put the focus on playfulness, with a promise that the future of mobility is not as boring as it would seem.
Audi gets the trophy simply because what looks like this from the outside ...
...turns out to be like this on the inside:
It's wicked. Trees hanging from the ceiling, cars appearing in the most unexpected places, colorful visuals and lights taking you to funky town. Even Batman would blink twice before understanding this upside down mirror fantasy from Ingolstadt.
And with cars like the Nanuk around, the Audi hall is undoubtedly the hottest party arena in Frankfurt this week. Imagine what happens there after the guests leave at 7...