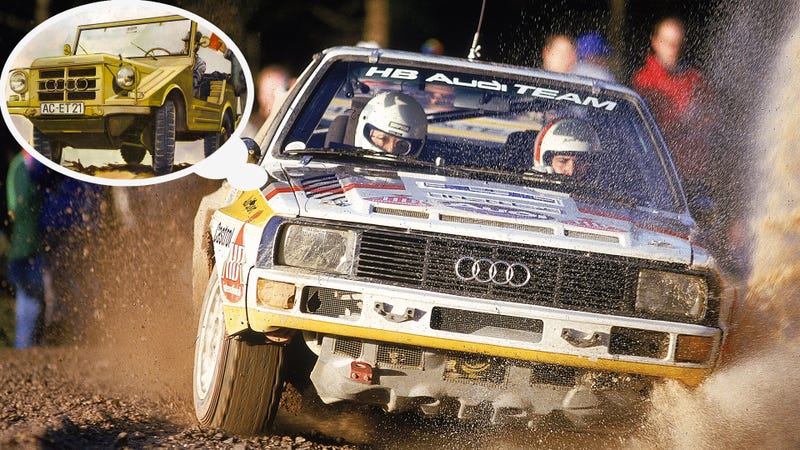 A few days ago I came across a car I'd never heard of before: The DKW Munga. Little did I realize it was the grandfather of those all-conquering Group B Rally Audi Quattros. You read that right.
It's a fairly simple history of how a little four-wheeler from a car company nobody remembers anymore ended up becoming the definitive symbol in four-wheel-drive around the world. So let's start at the beginning.
DKW stands for "Das Kleine Wunder" (The little wonder). It was the name given to the company's first and monstrously successful two-stroke motorcycles not long after WWI. DKW the company soon became one of the largest motorcycle companies in the world and then they went on to make some of Germany's first great people's cars, starting in the 1920s, long before some guy named Hitler ever announced anything called a "Volks Wagen".
DKW was a pioneer in front wheel drive back in the 1930s, which is the same time that they joined in Germany's big new multi-brand car conglomerate, Auto Union. Those four rings on the front of your new A4? They stand for DKW, Horch, Wanderer, and Audi.
In any case, in the 1950s, the West German military realized that since the Americans had whupped their asses in dubya dubya two with their four-wheel-drive Jeeps. The West German military issued a design competition for a design (just like the Americans did with the Jeep) and out of the process came the DKW Munga, which stands for Mehrzweck UNiversal Geländewagen mit Allradantrieb or "Multi-purpose universal all-terrain vehicle with four wheel drive."
That is quite possibly the best name for a Jeep ever.
The Auto Union conglomerate ended up building these things from 1956 on through 1968, even selling them in the US as the DKW Bronco. I'm getting a little sidetracked here, but those Broncos were sold through Mercedes, because Mercedes actually owned Auto Union back in the '50s and '60s. Even more oddly, the cars were sold through Studebaker dealerships, but again I'm getting sidetracked here.