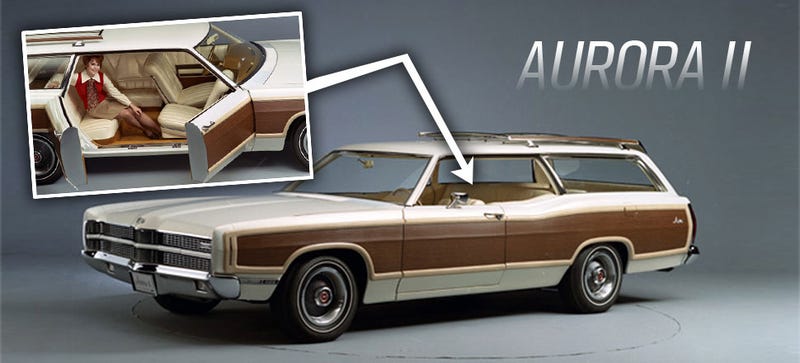 We know that most concept cars are purely inspiration-fuel. There's no chance they're ever going to be built, unless we somehow morph into a society populated only by millionaires with daring taste and no luggage. But others are simply novel — and plausible — ideas. Like Ford's Aurora II wagon of 1969.
There was, of course, an Aurora I concept, and we'll cover that in more detail at some point, too. It was a far more dramatic and forward-thinking concept car, like most concepts. But the Aurora II was, for a concept, remarkably achievable, which is why I wanted to look at it today.
Fundamentally, it's just a normal, off-the-lot Ford Country Squire wagon, with wood panelling and everything. Growing up, I spent many, many hours rolling around the back of my family's 1973 Country Squire. I know those cars well, which I think is why this concept so appeals to me.
The Aurora II takes the large wagon of the era and really re-evaluates how it can best be used. The two rows of big bench seats aren't really the best use of that interior space, are they? They just chop the interior of the car up into two stubby little half-rooms, using the same basic rules of cramming people into carsthat railcars have been using since the 1850s. There's got to be a better way, right?
And I think the Aurora II did find a better way. Perhaps inspired by the flexible interiors of cars like the Stout Scarab, the Aurora II sacrifices driver's side rear access for a nice large pair of suicide doors on the passenger's side. Without a dividing B-pillar, the doors reveal a vast, unbroken space.