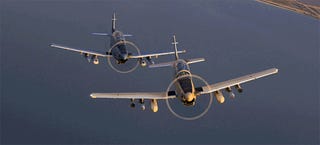 With the fighter market stale of any new blood, this highlight reel from famed aerial photographer, Paul Bowen and cinematographer Roger Tonry, is a fresh perspective for a marketing campaign featuring the AT-6C turboprop light attack fighter. Strap some guns on the T-6 Texan II and you've got a sexy little fighter.
Starting life as a PC-9 by the Swiss manufacturer Pilatus, the aircraft is significantly modified by Beechcraft to form the venerable T-6 trainer. Enter the light attack and reconnaissance variant, AT-6C. By adding integrated weapons systems including .50 cal gun pods, unguided and laser guided bombs, laser guided rockets, and Hellfire short-range strike missiles, close air support capability was achieved to meet light attack and armed reconnaissance requirements. Touted for its flexibility to perform as both a trainer and light precision attack as well as Surveillance and Reconnaissance solutions for irregular warfare scenarios.
The T-6 has been used as a primary trainer for the the United States Navy and Air Force for over a decade as a replacement for the Cessna T-37 Tweet which made its last flight as a military trainer in 2009.
Political controversy has surrounded the AT-6 as Beechcraft has failed to win contracts from the U.S. military's Light Attack/Armed Reconnaissance program in favor of the more expensive and foreign built Brazilian A-29 Super Tucano. It first happened in 2011 after the USAF mailed the exclusion notice to the wrong address giving Beechcraft no time to appeal the decision. After the contract was awarded to the A-29, a stop-work order was issued in 2012 and terminated the contract after an internal investigation revealed documentation deficiencies with the Air Force's dealings with Beechcraft. The resulting corrective action appointed a new Light Air Support selection team. The selection process promptly resumed and again in 2013 while Hawker/Beechcraft was crippled from the burden of Chapter 11, the Super Tucano was chosen to fulfill the urgent needs of light attack support in the Afghanistan conflict.