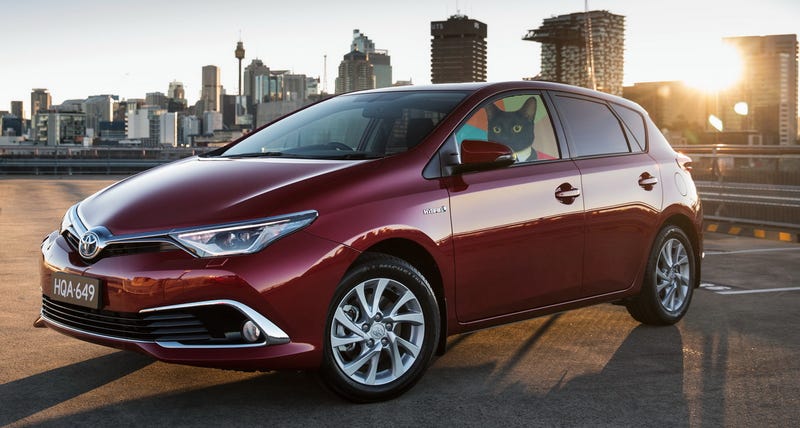 Have you seen the new Prius? Have you forgiven yourself yet? I haven't. Can somebody explain to me why the redesigned Toyota Prius looks like a hairless cat while this Australian Corolla Hybrid looks like that perfectly respectable Business Cat meme?

This is Australia's Toyota Corolla Hybrid. It's basically a Prius, but actually designed to look respectable. It looks a little simple, a little European, but sleek and professional and it's a helluva-lot better looking than the new Prius—which was seemingly designed with only one sheet of paper and a pair of scissors and that's it.
ETA: This is totally the Scion/Toyota iM that we get Stateside, which I forgot about. BUT! That doesn't come as a hybrid, and in hindsight that would have been the perfect Prius update. I also added a question market to the opening paragraph. Please, still enjoy this five minute blog.
Let's compare the two:
Now we need to ask ourselves, Toyota: what do we want the Prius to be?

Unfortunately, in America, I think we're seeing Toyota embrace the "fuck you" attitude of some Prius owners, who we all know can be a little insufferable about saving the planet sometimes. But the majority of Prius drivers probably don't think that way. A majority of Prius drivers are just cheap, and that's the American way I believe in.