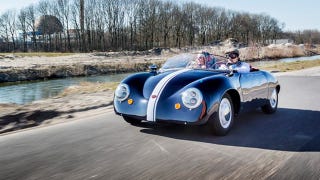 It might look like any other 356 replica on the market, but it's not. This is the Carice MK1, and not only is it electric, but the company claims this little Roadster comes in at an unbelievable 770 pounds. No, seriously, I don't believe them.
Now the Dutch have a proud tradition of making impressively odd machines. We all know Spyker and Donkervoort and, yes, even DAF. But you might not remember YES! (Not yelling.)
Back in 2006, they showed off a cool little roadster in Geneva, and two years later brought it to the Chicago Auto Show promising to sell cars in the states. As far as I can tell, that never happened.