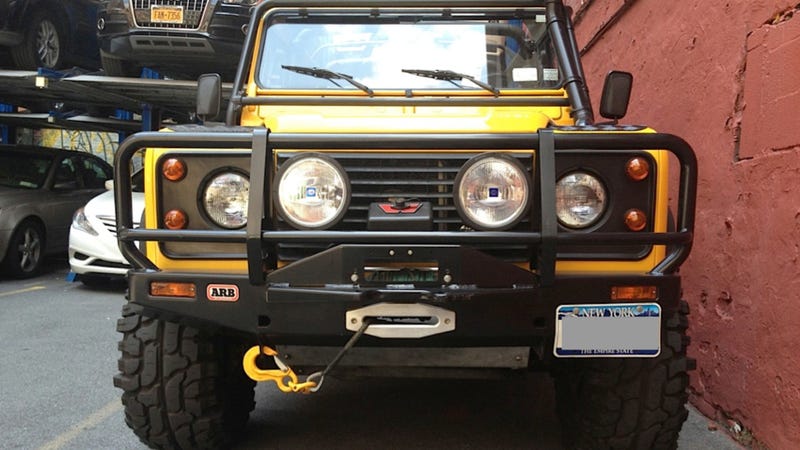 Welcome to Little Car in the Big City, where I highlight fascinating cars I found walking around a town that is known for being bigger than everything else, but where every car is fighting to stand out: New York, New York.
"This I Believe" is an essay series originally from the 1950s that was rebooted recently on NPR. Almost all the stories are deep, moving portrayals of core values and the things we know deep down inside to be true. The thing that I know deep down to be true is that the Land Rover Defender is the best SUV ever made. This I believe.
The Defender is one of those things, like the Mona Lisa or the Coliseum in Rome, that are perpetually beautiful. It doesn't matter if its been made with very little changes since 1983. They got it right the first time. Unlike the Mona Lisa or the Coliseum, however, the Defender's beauty is more about utilitarianism and stoic dignity, about working hard and doing a good job.
That is not what this Land Rover Defender is about.
And that is what makes it great. It's hilarious. It's a joke car, but one that is clearly not meant to be taken seriously. Why not? Well, let's start at the top. Yes, the very top. That snorkel? Doesn't look like it's ever seen water lapping at its neck (that would get the TVs wet). That roll cage, which was surprisingly standard equipment? Never touched solid ground. The diamond plate on the hood? Not sure what it's for. But it doesn't matter. With prices for bone-stock examples like the Land Rover Defender we spotted back in February approaching $45,000, you're telling me you wouldn't make it your own, even just a little bit?