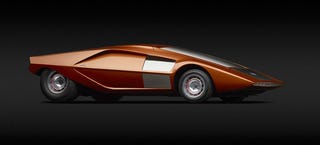 As Jalopnik's resident concept car advocate, I highly recommend you check out the High Museum of Art in Atlanta if you're in the area. They have some rare and gorgeous concepts on display that you won't want to miss.
The High Museum is unveiling "Dream Cars: Innovative Design, Visionary Ideas," an exhibit that will run through September. It will feature 17 rare and ostentatious concepts from America and Europe spanning eight decades. This is car design at its finest and purest — unencumbered by reality, bound only by the power of their creators' imaginations.
Cars on display include the Bertone Lancia Stratos HF Zero, pictured above, the Pininfarina Ferrari 512S Modulo, the General Motors Firebird XP-21, the BMW GINA Light Visionary Model, the Stout Scarab (Wooo!) and many more.