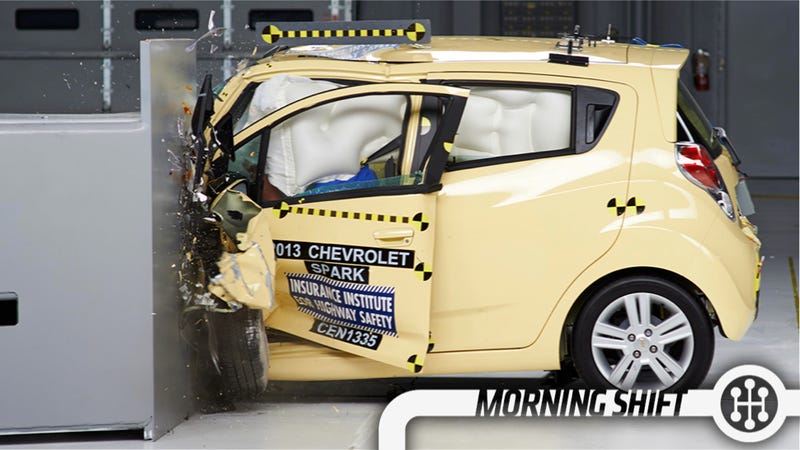 This is The Morning Shift, our one-stop daily roundup of all the auto news that's actually important — all in one place at 9:30 AM. Or, you could spend all day waiting for other sites to parse it out to you one story at a time. Isn't your time more important?
1st Gear: And Even That Doesn't Look Good
The small overlap crash test is the most difficult test amongst the battery of new challenges the Insurance Institute of Highway Safety is putting cars through and, yeah, the results aren't great if you're a fan of mini cars like the Honda Fit and Fiesta ST.
After testing 11 models, only one vehicle was "acceptable" in this test, while the rest were marginal or poor. So give it up for the American (well, Korean-American) Chevy Spark for doing an adequate job protecting its passengers while cars like the Honda Fit and Fiat 500 and Toyota Prius C all got "poor" ratings.
Small cars will always have challenges when it comes to crash testing although, in my experience, they're also great at avoiding crashes since they're generally more nimble.
Still, the results are scarcely encouraging unless you happened to buy a Spark or, maybe, a Mazda2.
2nd Gear: Strickland Defends Ending Jeep Fire Investigation
The saga of the Jeep fire ended with a curious proposal from Chrysler to install trailer hitches on certain models to prevent the problem, thus getting the government off their back.