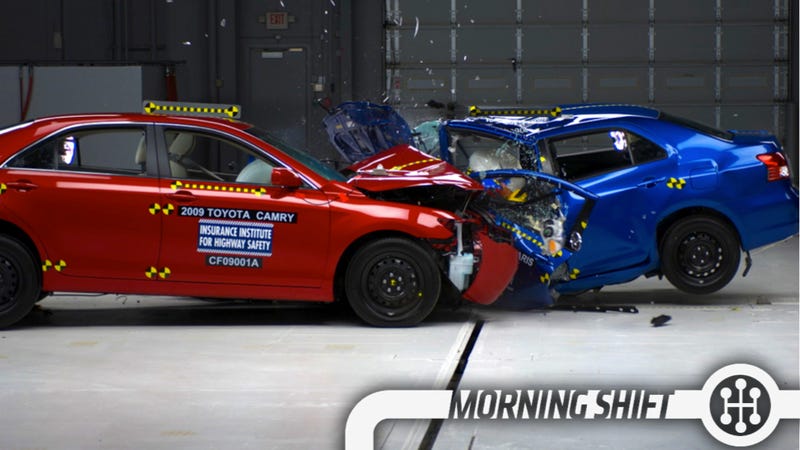 This is The Morning Shift, our one-stop daily roundup of all the auto news that's actually important — all in one place at 9:30 AM. Or, you could spend all day waiting for other sites to parse it out to you one story at a time. Isn't your time more important?
1st Gear: Here Are The IIHS Top Safety Picks
The strictest crash testing in the world is probably the Insurance Institute for Highway Safety's mix of roof, overlap, and offset tests. Run that gauntlet and you'll be award with a Top Safety Pick+ Award.
This year's list, which numbers 22 and includes everything from the new Infiniti Q50 to the new Honda Odyssey and Ford Fusion.
By building three cars off of one platform, Mazda scored three Pick+ picks with the Mazda CX-5, Mazda6 and Mazda3.
Some cars, like the Volvo S80, make the list because they hadn't previously been tested for a certain kind of test until recently. The safest brand? Honda/Acura. The ones conspiculously missing? GM and Chrysler, although both have cars that are regular Top Safety Picks.
2nd Gear: All Your Cars Are Belong To China
China's continuously strong car market and America's ability to build some nice ass cars has shippers counting those dollar dollar bills as they no longer have to send empty ships back to Asia.
This is a much better relationship for the U.S., which used to import plastic crap that smells like cancer and export cash.
Some numbers from this interesting Bloomberg report:
Average rates for ships able to carry at most 6,500 cars will rise 4.1 percent to $25,500 a day next year, the highest since 2008, according to RS Platou Markets AS. Utilization will advance to a six-year high of 87 percent as demand increases 3.6 percent and the fleet expands 2.7 percent, the Oslo-based investment bank estimates.
3rd Gear: Cubans Can Buy New Cars Now
Cuba's we-tell-you-what-you-can-buy economy (profiled expertly here) is now coming to an end as Cuba opens up new/used vehicle sales to private individuals.