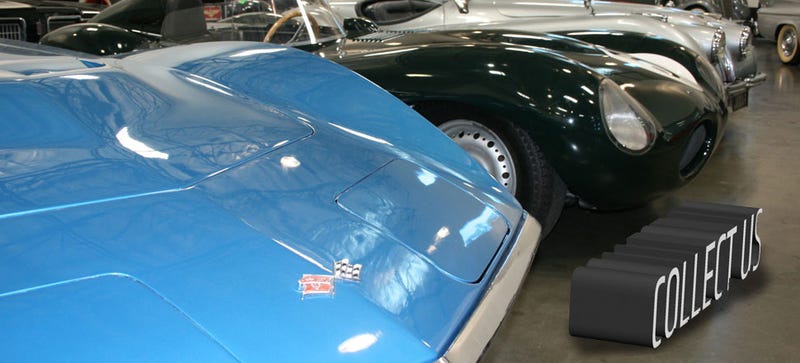 In honor of Collector Car Appreciation Day on July 11 (oops), Auctions America is holding a big auction of some really interesting collectible cars. They were nice enough to let me check out some of them before the July 31 auction. I'm pretty sure my presence devalued the cars a bit, so, you're welcome, bidders.
The collection is really quite varied, with some crazy high-end stuff, albino-unicorn-grade rarities, and a few more humble but charming entries as well. Here's some of the cars that caught my attention:
A Tucker! Of course there's hardly any of these around, so it's always exciting to see this stillborn American take on the Tatra. This one looked to be perfect.
And look at that delightful helicopter motor sitting in there. You could eat out of that engine bay, but they restrained me so I couldn't.
A '59 Fiat 500 Jolly! These are always fun. This one is a US-spec model, which you can tell by the strange, oversized-bug-eye headlights.
WWI Flying Ace Eddie Rickenbacker started a car company started a car company in 1922, and this is a fine, brass-trimmed example of one. There's not many of these around.
The Rickenbacker has some of the classiest taillights I've ever seen. That top-hat-in-the-ring logo was taken from Rickenbacker's old WWI fighter squadron.
A Muntz Jet! "Madman" Muntz was a really interesting character, and while a Kaiser-Frazer dealer, he had an idea for his own sports car, about 400 of which were built, mostly in Glendale, CA. I think they're quite striking.
MG TCs were once sort of the iconic "sportscar" back when the idea of a light, small, quick car was still unusual to Americans. This would be a very fun car to have.
Plus, for turn-indication aficionados like myself, these are some really delightful units here. Actual arrow and everything!
These two should probably be sold as a set: a nice GT40 recreation and a really well-sorted Isetta.
Oh boy, a Vector! This would be perfect for the buyer who wants something that generates as much confusion as it does attention. And all those questions asking you what the hell it is are sure to distract you from the possibly abominable build quality. Is that panel on the hood open or shut? It's pretty impossible to tell.