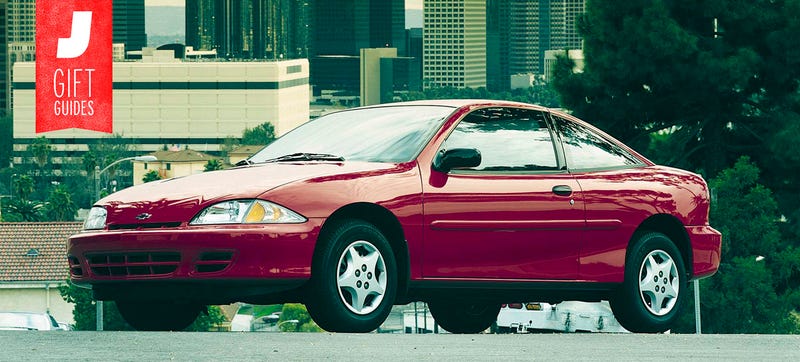 Road & Track. Evo. Top Gear, The Grand Tour, all of them. Carl has no use for these "buff books" and "enthusiast shows." He has no love for the self-professed journalists and how they sling seven-figure McLarens and Ferraris and Porsches around race tracks in countries he'll never visit.

Carl knows all of them are out of touch. They trade in an elitist fantasy of a world that will always be out of his reach. Their business is the marketing of a dream, nothing more. And he hates what it all implies: why should the love of speed belong only to the spoiled millionaires?
No. Above all things, Carl is a realist. He doesn't lust after that fantasy, doesn't care about the chase for the best lap times around Monza and the Nürburgring; he knows what he likes and he likes what he knows.
And for him, that's his prized 1999 Chevrolet Cavalier.
There's a lot of Cavaliers in Carl's town. Some of them litter front lawns in front of double-wides, while others limp around in various states of disrepair. Things have been hard here since the Walter Mondale face mask plant closed. People have been saying that since Carl was a kid, implying something fleeting and temporary about all of it. Carl often wonders when the hard times slipped into just being the way things are.
But Carl takes pride in his Cavalier. He keeps it running right, doesn't care what the critics and message board commenters—or his asshole cousin Tim who owns a Plymouth Neon—all say about his car. To him, it's a fine car, and more than that, it's his.
Forget the supercar kids, the track day cowboys, the Instagram heroes—Carl, this gift guide is for you and for the Pontiac Sunfire owners. Everyone deserves a joyful holiday, even the J-body owners.
What kind of person pays to get their oil changed or have their transmission serviced? Not Carl. Nobody touches his Cavalier but him. He knows every inch of it, and a lot of that is thanks to his trusty Haynes shop manual.
Everyone who wrenches needs a good manual, even in the age of YouTube videos and forums.