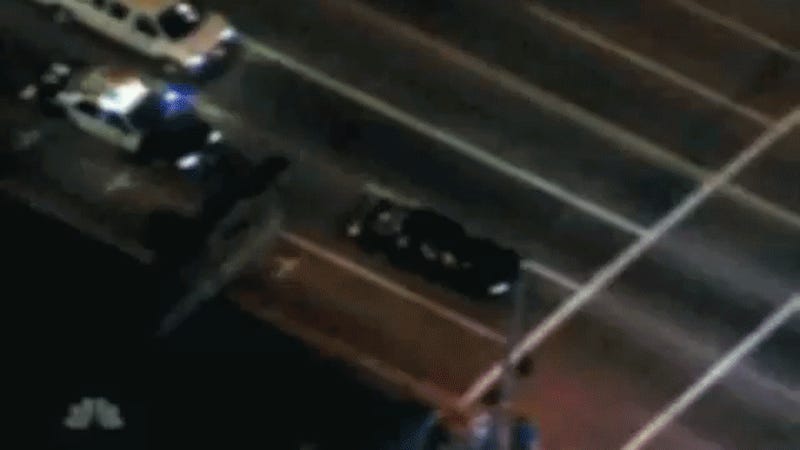 Despite special driver training, the world's police aren't always beacons of on-the-road excellence. Here are some of their worst moments.
---
10.) That's not how you close a road
This is the Guardia Civil military police opening a rally stage in northern Spain. There is a difference between a rally car and a police-spec Ford Mondeo.
Suggested By: Vander
---
9.) LAPD turns Keystone Cops
How...how does this even happen?
Suggested By: Arch Duke Maxyenko
---
8.) Parking is hard
And the cop didn't even let the other guy go.
Suggested By: My X-Type is too a real jaaaaaaaaaaaaaaaaaaaaaaaaaag
---
7.) Chasing a dirt bike is a bad plan
When you're in the dust of a dirt bike, I guess you can't see that there are tire-busting train tracks directly ahead of you.
Suggested By: GR1M Racer
---
6.) Rear-ending a motorcycle rider
I really shouldn't include this clip, because the cop was so apologetic and polite after he rear-ended a motorcycle rider in slow traffic. Suggested By: Bullitt417
---
5.) Motorcade endo
Again, train tracks and cops do not appear to mix.
Suggested By: Brian, the Life of
---
4.) $750,000 Ferrari F50 Crash
There's no video for this one, but back in 2009, off-duty FBI agents crashed a drug dealer's seized Ferrari F50 through a wall. Not only did they not pay for the wreck, they were not charged with a crime against humanity (crashing a Ferrari hypercar is outlawed by the Geneva Convention).