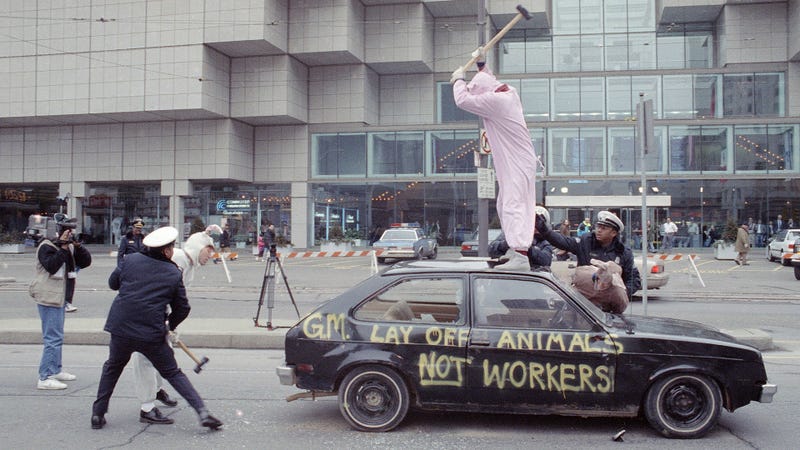 The Detroit Auto Show is the American car industry's most important display, meaning that when they're going downhill the show cars follow. Here are the ten worst cars ever to drop a sheet in the D.
---
10.) Plymouth Voyager III (1990)
I thought that question was for the worst concept. That thing is so 80's retro-future awesome. I would absolutely roll a 6 wheeled Lumina. I think that the next big custom trend will be a modernized 80's vibe.
Good point. The Voyager III was sort of funky. Then again, you couldn't get away from the fact that it was never going to happen, and what Chrysler was actually going to sell you was the Eagle Optima.
Suggested By: burglar can't heart click anything
---
9.) Pontiac Aztek (1999)
The photo says it all. The on-stage reveal was supposed to look like an Gen X'er party. "It's the Versatility, Baby!" said no "active lifestyle" Gen-X'er ever. I love how another is holding the sign that says "185hp" as well. Out of a 3.4L V6 that dated back to 1980. Like that was something to brag about rather than be ashamed of.

Yes, the Aztek was practical. But it was monumentally ugly, cheaply made, poorly built, underpowered, and overpriced. The much nicer Buick Rendezvous that was based on it had a lower base price.

GM spent $40M on the ad budget for the Aztek, they were so confident in its success. After just 4 months, there was a massive glut of them on lots, and a great many of them were being demo'd to GM corporate employees to take pressure off mounting inventories.

It was a disaster for GM.
It was a disaster for mankind.
Suggested By: N2Skylark, Photo Credit: NAIAS