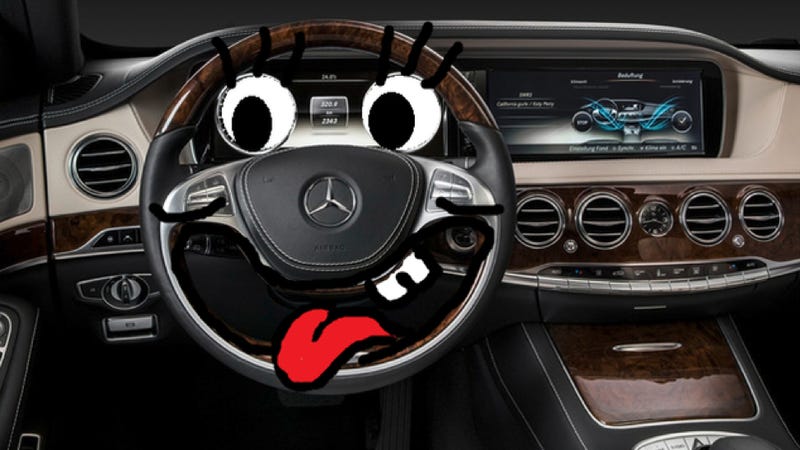 "This is my steering wheel. There aren't many like it, but this one is mine. Without me, it is useless. Without it, my car is useless." You'd think automakers would remember that creed when designing the big thing right in front of you, but alas, not always.
I'm going to go ahead and pose a ridiculous question. What matters more, how the interior looks, or how the exterior looks? Though you may disagree because you are a showoff and you like being wrong, I'm going to go ahead and say the interior. That is because I am selfish.
I like to think that most of the time I spend with a car is on the inside of it, driving it, rather than the outside of it, drooling while it sits in my garage and yet I do not dare push those pedals. And since I am the one looking at the interior, and everyone else is looking at the exterior, and I am clearly more important because otherwise why would I be driving my car, the interior is important.
You still following?
Don't worry if you're not. What I'm trying to say is this – the interior of the car is the most important design element of the entire thing, and doubly so for the big round thing that sits in front of you. The steering wheel.
And woe unto the poor designer that gets it wrong. These are the ten ugliest things ever to control the front tires.
---
10.) Early Airbag Lamborghini Diablo
The Lamborghini Diablo (or Devil, for those who haven't caught up on the mythology of Dora the Explorer) is a mean supercar for bad people. It's loud, it's uncomfortable, and when you step on the go pedal it sounds like Lucifer himself is gargling rocks behind your head. You'd expect the steering wheel that controlled all that to be a gnarled, wicked thing then, which would only hint at the massive power that lied within the vehicle. Instead, you got a staid, four-spoke affair with a big block in the middle to hold the airbag.
The wheel itself wasn't ugly, it just had nothing to do with the car. In fairness to Lamborghini, lots of manufacturers had trouble integrating airbags under the new federal mandate at the time, and they hadn't been bought by Audi yet. If the car had to skimp on its wheel just to stay alive, all is forgiven. That's why this wheel only makes number 10 on this list.
Suggested By: Barbarian772 Photo Credit: Lamborghini