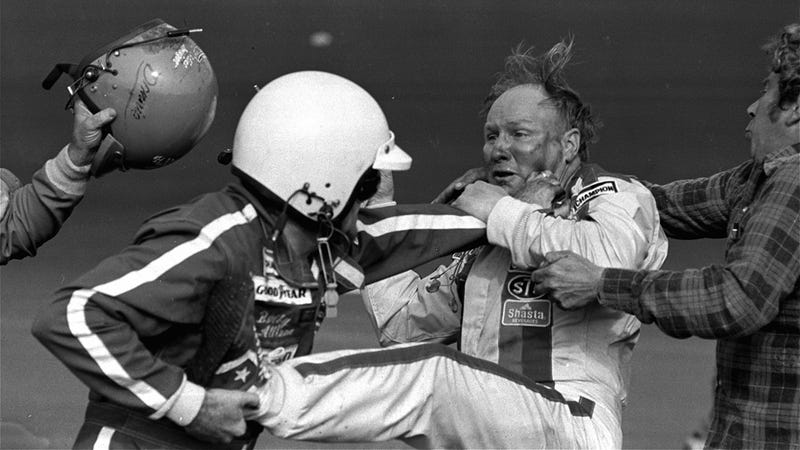 Auto racing started as a gentleman's sport, but that doesn't mean the drivers are always very gentlemanly. Sometimes things get a little physical.
---
10.) A Mullet Fights For Dirt Track Justice
While Nascar race winner David Reutimann picks up first place at this dirt track event, two other drivers settle their differences as you'd imagine they would. I'm rooting for the mullet.
Suggested By: $kay "my happy place is a GT40" Cog
---
9.) Flying Jump Kick To A Windshield
You've probably never heard of the "Glass City 200" before, but you'll remember it now. Here's driver Michael Simko delivering a flying jump kick to fellow driver Don St. Denis's windshield. Things go downhill from there.
Suggested By: teampenske "Triple P" The Third
---
8.) Harvick Punches Busch, Busch Crashes Harvick
Kevin Harvick punches Busch, so Busch pushes Harvick's car into a wall. Not smart with all those people around.
Suggested By: hilikusopus, Demon-Xanth
---
7.) A Hockey Game Breaks Out At IndyCar
Kanaan and Hornish had a bit of a "scuffle" as our own Travis Okulski points out.
Suggested By: Travis "Tokulslki" Okulski
---
6.) Legendary AJ Foyt Delivers A Not-So-Legendary Slap
AJ Foyt is known for being one of the toughest guys in American racing history, which makes his backhanded slap on Arie Luyendyk seem a little disgraceful.
Suggested By: Scrambler "The Scrambler" Scrambler
---
5.) 100 Laps Down But Fighting The Leader
One of the most disgraceful moments in sports car racing happened just last year, when a total backmarker tried to take out the leader. Bakkster_Man explains.