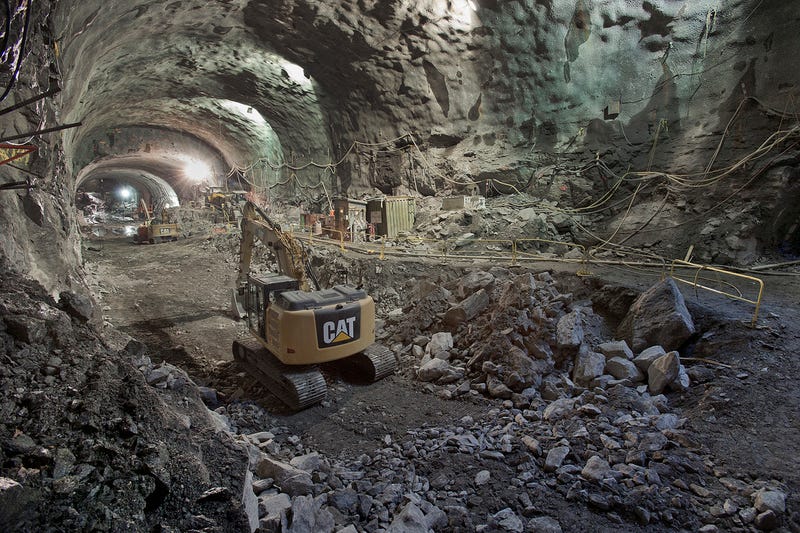 From secret Cold War nuclear bunkers to intercontinental Maglevs, these are the most ambitious subways ever devised. And even though most look impossible, more of them were built than you think.
---
10.) The Marmaray Tunnel
The deepest immersed tube tunnel sits 198.4 feet below the Bosphorus Strait, which divides Europe and Asia. It is the Marmaray Tunnel in Istanbul. It only opened a few months ago, and remains controversial with regards to earthquakes, as The Guardian reports.
Suggested By: Solidstate89, Photo Credit: Muhammed Enes Okullu/Wikimedia
---
9.) The Cincinnati Subway
You're looking at the largest abandoned subway system in the United States. Yes, in the first half of the 20th Century, Cincinnati built an entire underground system, and it never saw a single passenger. Read more on the failure right here.
Suggested By: Arch Duke Maxyenko, Photo Credit: ProgressOhio
---
8.) New York City's 1939 Expansion Plan
What's most impressive about NYC's massive expansion plan from 1939 isn't just its scale, but that today's subway system has come pretty close to realizing its goal.
Suggested By: My X-Type is too a real Jaaaaaaaaaaaaaaaaaaaaaaaaaaaaaaaaaaaaaaaaaaaaaag, Photo Credit: The Independent Subway System via Wikimedia
---
7.) The Paris Metro
Reader owen-magnetic puts it best.