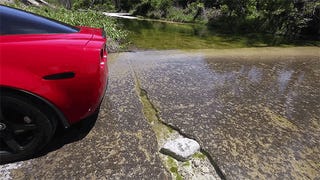 If you have a great engine, the best thing is to connect it to a rather free flowing exhaust and let it breathe. These ten cars certainly mix up the air.
---
10.) Tuned Ford GT
According to Evo, stock GTs are nothing to write home about:
Turn the ignition key, prod the red starter button and the supercharged 550bhp V8 churns briskly but quietly into life. It's hardly the thunderous awakening you might expect. In fact, given that the supercharger pulley all but tickles your right shoulder, it's remarkable that Ford has managed to suppress the noise to such a degree. Even a hearty stamp on the throttle fails to illicit a holler from the decidedly emasculated tailpipes, much to the disappointment of Barker and Barke.
However, there aren't many stock GTs out there, and that's a good thing. JohnnyWasASchoolBoy:
There's one that attends our local Thursday night show 'n' shine. When it leaves and the owner accelerates down the block, it sounds like the earth is being torn in two by angry giants.
Suggested By: JohnnyWasASchoolBoy
---
9.) Jaguar F-Type R Coupe
Britain gave the world the Beatles, the Rolling Stones, V12 Aston Martins and Jaguar's supercharged V8. God Save The Queen indeed.
Suggested By: Braking Bad