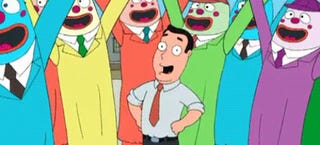 Do you think you can sell a car just by offering a good price? THINK AGAIN, SONNY BOY.
---
10.) Buy Our Car Because Free Guns
Yep, free guns with cars. It's more common than every bi-coastal car buyer reading this thinks.
Suggested By: Stig-a-saw-us-wrecks and seoultrain, Photo Credit: Facebook
---
9.) Buy Our Car Because Free Car
A few years back, a number of dealers offered a free Kia Rio with the purchase of a Kia Minivan. Back in the late '50s, reader Lamborweenie says a Cadillac dealer would stick an entire Isetta in the trunk and give it away with the full-sizer.