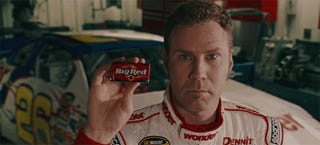 Racing is expensive, and sponsors expect performance outside the track as well. Here are ten bad examples of drivers turning into salesman.
---
10.) Jackie Stewart
The best-built North American cars presented by the worst British actor.
Suggested By: Mers
---
9.) Brad Keselowski
The poster child of DUI.
Suggested By: For Sweden
---
8.) Nigel Mansell
No wires, flawless image quality and strawberry soft porn for those Japanese ladies out there. Amazing.
Suggested By: Mikeado
---
7.) Lewis Hamilton
After reading the script, he should have known it's going to be painful.
Suggested By: Me, because you guys were lazy.
---
6.) Mark Webber
The fact that I can't be a Canberra Milk kid makes me a sad panda. At least I still have a chance for getting a ride with Maria .