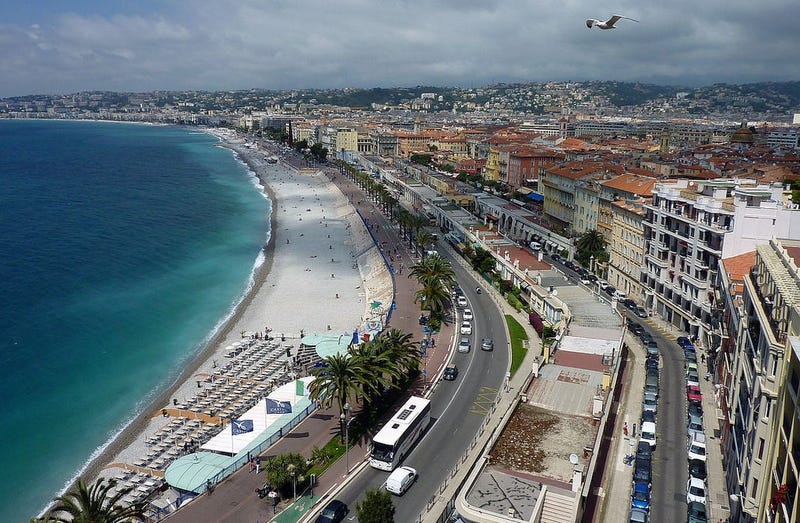 In a big city, you're lucky if you can find a parking spot, let alone a pretty road. It's not easy, but these ten urban centers have got it figured out.
---
10.) San Diego, California
The southern California city of San Diego isn't only an incredible place to be, it's a decent place to drive as reader Grand Moff Talkin' explains.
Perfect driving city. Beach drives, desert drives, hilly drives. San Diego has it all. It has some of the best streets to cruise on. Sunset Cliffs Blvd, the Silver Strand, El Cajon Blvd, Sixth Avenue.

SD also has plenty of freeways. The 5 is backed up? Take the 805 or the 163 or even the 15.

Even if the freeways are clogged, there are plenty of alternate routes on sidestreets, like Genesse, Kearny Villa or Linda Vista to get north-south, or Nimitz and El Cajon Blvd to get East-West. Also, a lot of these side streets have 40-50 mph speed limits.
Suggested By: Grand Moff Talkin', Photo Credit: Richard via Flickr
---
9.) Milwaukee, Wisconsin
Maybe its low population is to be thanked or maybe Milwaukeeans just know when the right time to drive. Who knows, it's just a good place to drive. Even Forbes agrees. Reader Miss Mercedes has the low-down.
For whatever reason, downtown traffic is usually non-existent, so driving is mostly stress free. And Milwaukee's streets aren't nearly as tyre-homicidal as Chicago's.

The downside of course, is that being in Milwaukee means you have to be in Wisconsin.
Suggested By: Miss Mercedes, Photo Credit: Jeramey Jannene via Flickr
---
8.) Taipei, Taiwan
Thanks to an impressively popular public transportation system, Taipei's roads are becoming more and more user friendly to private motorists. Reader MaWeiTao can share some info.
Traffic is still a problem, but it's much better than it used to be with the massive expansion of the subway system. Plus, numerous elevated roadways cut through the city making for an awesome experience. The best part, however, is that it doesn't take more than 20 or 30 minutes to be up on the mountain roads.

Just remember to look out for idiots overtaking on blind turns.
Suggested By: MaWeiTao, Photo Credit: Photos By 夏天 via Flickr
---
7.) Ottawa, Canada
Ottawa's set of scenic drives and parkways give the Canadian capital city an advantage on top of most other North American cities. In most urban areas, you're lucky if you even have a bypass road to get through or around the city, but in Ottawa, these parkways make driving a treat.
Just watch out for those Mounties.
Suggested By: AdmiralAkbar, Photo Credit: Jamie McCaffrey via Flickr
---
6.) Pyongyang, North Korea
The roads of Pyongyang might not be completely empty, but close enough. As long as you can figure out the whole lack of fuel issue and try your best to stick to the strict speed limits, you should be good. Reader J-Tenno knows what's good.
Empty streets that seem to have relatively good road surface, almost no pedestrians and almost no other cars to speak of.

What to worry about:

- Some unfortunate pedestrian walking on the street - but who cares, he will probably be executed.

- Communism

- Maybe a police officer - but it ain't nothing a couple thousand wons wouldn't fix.

- Kim Jong Un's furious gaze.
Good luck getting there, though. Or getting out.