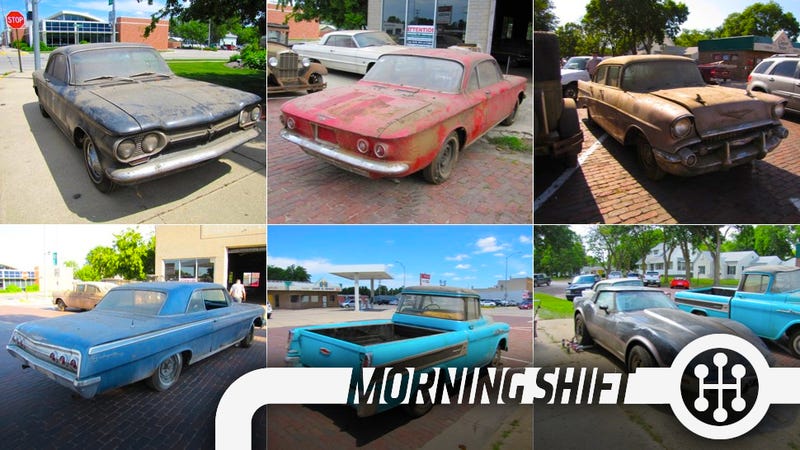 This is The Morning Shift, our one-stop daily roundup of all the auto news that's actually important — all in one place at 9:00 AM. Or, you could spend all day waiting for other sites to parse it out to you one story at a time. Isn't your time more important?
1st Gear: Sell All The American Cars!
From Motoramic comes this great news that the remains of a small-town Chevy dealer's collection, built up over 50 years, is finally going up for auction.
The owners of Lambrecht Chevrolet in Pierce, Nebraska built up around 500 vehicles over the 50 years of business, mostly through trade-ins, and left those cars to gather dust when they closed up. The cars came to represent "a lifetime of hard work, tears, and joy" says the daughter of the Lambrechts.
Their hard work can be your gain when the vehicles go up for auction this fall. Just take a look at what's for sale [PDF]. There's a Vega wagon with only 17 miles! And did we mention all the Corvairs?
While most of the cars are older GM products, there are some other great finds including a relatively low-mileage '70s International 4x4 pickup and a Kaiser Sedan.
Which would you pick?
2nd Gear: The Global Cadillac And Buick And Holden Musical Chairs
The world loves Cadillacs and Buicks and, here in the U.S., we're surely warming up to them. This has a lot to do with placement and, especially in the case of Cadillac, in them no longer looking like nothing more than Landau-roofed Chevy boats.
Holden's design director Andrew Smith will now head up design for both brands, globally, which is a huge challenge. We know what a Cadillac is supposed to look like now and Buick, at least, is starting to coalesce around a shared language.
He replaces Mark Adams (pictured), who was responsible for overseeing the new Cadillac CTS and our beloved Cadillac ATS. Now Adams has to go to Europe to untangle the Buick-Opel mess reports Automotive News.