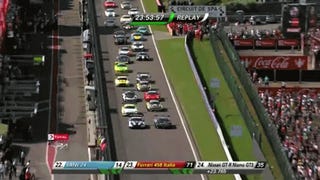 It's been a bumper year of people avoiding impacts in high speed and highly improbable situations, and that means it's time for the 2013 Savies!
Yes, the Savies are finally back, here to remind you that with quick eyes, fast hands, and a whole lot of luck, numerous operators of motor vehicles avoided gruesome nullification this year. So as you gather 'round with your loved ones this holiday season, take some time to watch these videos, and thereby reflect on capability of human resourcefulness. Or something like that.
Like the 2013 Dashies, I'm going to go in somewhat chonological order with these.