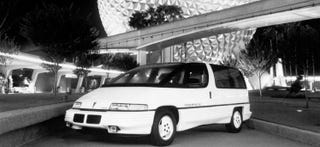 This is The Morning Shift, our one-stop daily roundup of all the auto news that's actually important — all in one place every weekday morning. Or, you could spend all day waiting for other sites to parse it out to you one story at a time. Isn't your time more important?
1st Gear: But They'll Kill You If You Call It A Minivan
There's a lot of utility in the minivan design, which pushes the wheels out to the edges and puts a big box on top of it. With the exception of Chrysler and Kia, nobody likes to call them minivans.
Why? We used to drive station wagons, then those became passé, so we made the station wagon taller and invented the Minivan. Then those became passé, so we made them tougher and bigger and invented the SUV. Then those became passé, so we softened them and lowered then and reinvented the station wagon, but called it the CUV.