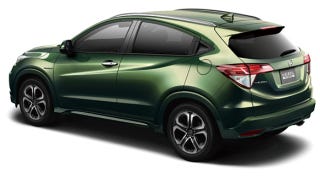 I'm not quite sure what to make of this Honda Vezel (vez-ull? vez-elle? vee-zel?), this miniature crossover that's being unveiled at the Tokyo Motor Show this week. It's something. I just don't know what.
Let's start with the basics: It's based on the Fit, and Americans were supposed to get a Fit-based SUV at some point in the future. But the Vezel, for now, will only be shopped in Japan. Honda's PR says it "belongs to a new category of automobiles that fuses together multifaceted values at a high level." Uh, shouldn't the majority of mainstream cars do that?
It's powered by the same 1.5L engine in the Fit, but has a "sport" hybrid dual-clutch option, which sounds interesting. It's likely the same seven-speed dual-clutch on the 2015 Fit. No word on horsepower, fuel numbers and all that jazz (which, as a reminder, is what the Fit is called in other markets... I'll see myself out.), but expect something in line with the thrifty Fit.