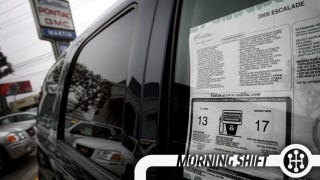 This is The Morning Shift, our one-stop daily roundup of all the auto news that's actually important — all in one place every weekday morning. Or, you could spend all day waiting for other sites to parse it out to you one story at a time. Isn't your time more important?
1st Gear: The New Mustang Gets 500 MPG, We Tested It In A Tunnel
Remember that time automakers were all like "Hey, this Hyundai gets 42 MPG!" and then consumers bought it, drove like actual people, and were like "Uhhh... NOPE!"
Then we all found out the EPA didn't actually test cars so much as let the automakers tell them whatever they wanted to. But, one assumed, the automakers actually did advanced measuring and testing of their vehicles.
Uhhh... NOPE!