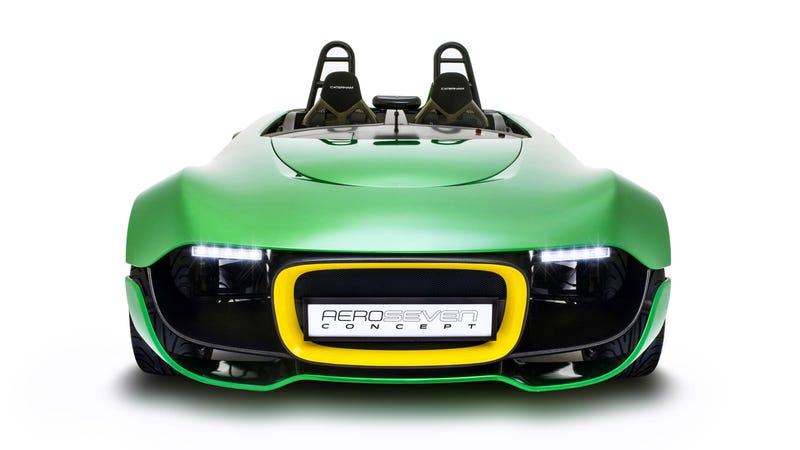 Caterham's new AeroSeven Concept will become a production vehicle next fall, but that's only the beginning. Expect to see more mainstream crossovers and small cars wearing the badge, and a new Alpine sportscar jointly developed with Renault.
Let's start with the AeroSeven Concept:
It's a futuristic speedball powered by a 2.0-liter normally-aspirated Ford Duratec producing 240 horsepower at 8,500rpm and 152 lb ft of torque at 6,300rpm, giving the car a power-to-weight ratio of approximately 400 hp/tonne. It also has pushrod double wishbone suspension in the front, and an independent double wishbone setup at the rear. Zero to sixty stays under 4 seconds.
Wrapped in dry "pre-preg" carbon fiber body panels and equipped with a new fully active graphical display unit and a race-inspired steering wheel incorporating 'Road' mode, 'Flash-to-Pass' and 'Pit Lane Speed Limiter' functions, it's also the first Caterham with fully adjustable traction control, launch control and an anti-lock system from Bosch.
And since the AeroSeven Concept incorporates a completely new rollover structure and runs on road legal Avon CR500 tyres (195/45R15 and 245/40R15), it won't be too difficult to turn it into a production vehicle. Caterham promises that deliveries will begin in fall 2014. I say think of it as a much cheaper, simplified Aston Martin CC100 that's actually going to happen.