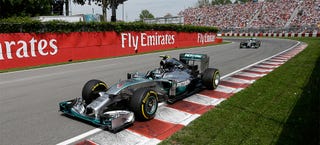 The past few Formula One races have been a bit boring. One of the Mercedes drivers, either Lewis Hamilton or Nico Rosberg, would end up on pole, and one would end up winning. It was neat at first, but then it grew a bit stale. The Canadian Grand Prix looked like much of the same, until it all went to hell.
And when I say "all went to hell," I mean for Mercedes:
The beginning of the race all went along pretty typically, but about midway through, both the Mercedes cars seemed to lose massive amounts of pace. Something was wrong, but it wasn't clear what. Was it a general software issue? Something with the fuel system? Maybe someone in the pits hit a wrong button?