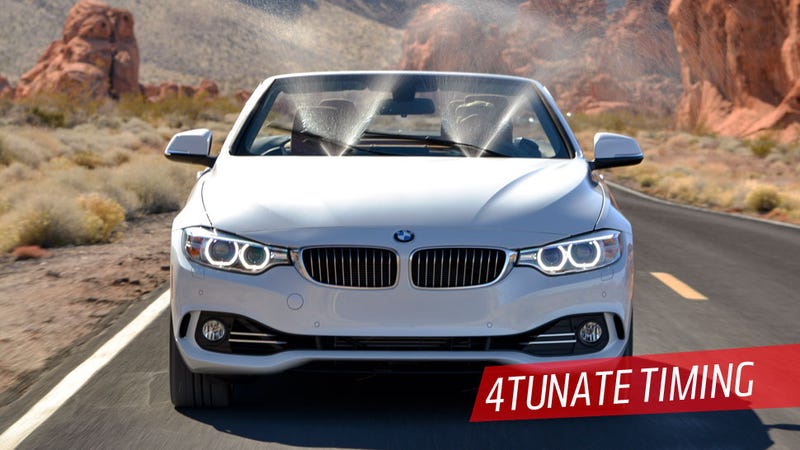 "Must be motherfucking nice."That's what the woman standing on the corner, laden with grocery bags, said as I pulled up to the intersection in a white BMW 435i Convertible. And you know, she's not a bad car reviewer. It is pretty motherfucking nice.
I did feel a little self-conscious in the car, and wanted to somehow explain to her that I can't really afford this car, either (it starts at $54,900), but I wanted also to tell her that, in some ways, she's not missing that much. Sure, it's nice — motherfucking nice — but it's somehow not all that exciting, really. I'm not sure she'd have appreciated that distinction. I should have offered her a lift.
(Full disclosure: BMW was so eager to have me try out their new 4 series convertible, they flew me to Vegas, fed me, and let me convince their racing driver he needed a BMW van.)
I got to drive the 4 series convertible through what I'm pretty sure were the locations they filmed all those Coyote v. Road Runner documentaries. The remains of ACME rockets and discarded flying suits littered the desert. Plus, I got BMW's pro photographer to take that amazing picture of me washing the windshield. Look at those majestic twin fans of windshield washing fluid! It's humbling.
I feel a little conflicted about the 4 series convertible. I know it's a well-built, carefully-engineered car, handsome, powerful, and full of fun technology like heads-up displays and freaking neck warmers, but I never really felt that deep-in-the-groin/gut passion for the car.
The Look
The 4 series convertible is an attractive car, I think, especially with the metal top up and the windows down, so you can really appreciate the currently rare joy of a pillar-less coupé. The front end treatment fits squarely within the BMW corporate mold, but has the sort-of-eyeglasses shaped lights and an interesting dogbone-shaped lower intake area on the lower front air dam.
The designer claims the inspiration for the car's look with the top down was the deck of a boat, and I suppose the big, black area that covers the retracted top does feel a bit like a ship's deck. Though it seems like a missed opportunity for some nice woodwork. The whole cabin is ringed with a handsome chrome band that emphasizes the nice, four-seat interior. The side sculpting isn't overdone, and the only real bit of extra jewelry is a little vent to allow air to flow through the front fenders. Oh, and a silly little plaque that reads "Luxury" (at least on the Luxury edition).
It looks good, it looks expensive, and it looks like something I'd pass without a second look back. It's like hanging around someone who always does everything just right — sometimes, for some real fun, you want to spend some time with the loudmouth fuckup. And a convertible should have at least a little bit of loudmouth fuckup in it.
The Interior
The interior is one of the most important parts of the car, because it seats four and can become part of the exterior. It's well-designed and the materials are quite nice, including, on the one I drove, an awful lot of nice caramel-colored leather. It's nice to get a break from all the black-on-black so many cars have.
The rear diffuser does help wind buffeting significantly, and could maybe act as a sort of low-utility privacy shield/sneezeguard for your rear passengers as well. It stores easily behind the rear seat when not in use, which is nice.
The controls are all right from the rest of the BMW line, and for the most part have decent ergonomics, save for the rotary controller thing which always felt awkward to reach. The seats are comfortable with good side bolstering, even in the rear, though BMW themselves still don't seem to be comfortable with the idea of cupholders.
I mentioned this in my review of the M235i, but it's even stranger here. The 4 series convertible isn't designed to be a hardcore track car, so you'd think BMW wouldn't mind if we had a drink with us. But they clearly do, since they hide the cupholders under a funny little cover that is definitely not an ashtray and even has its own little net in the glovebox to store it.