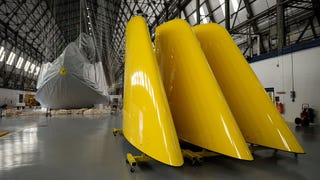 The Goodyear Blimps have been around since 1925, when The Pilgrim was launched with 60 hp worth of air-cooled radial power. Today, the company is preparing the newest generation of their Zeppelins developed by Zee Germans.
Pricing on the new Maybach Zeppelin will start at $524,000. It even comes with a unique, custom scent. That doesn't explain this horrifying press photo Daimler sent out yesterday.
Maybach is reincarnating the Zeppelin badge for its floundering reincarnated luxury brand. The Maybach Zeppelin, set for a 2009 Geneva Motor Show debut, is the crème de la crème de la crème.